Spotlight
Focus



Senior White House adviser Valerie Jarrett in a wide-ranging Washington Post video interview on the campaign, the first lady, the president, and his recent Supreme Court nominee.

Earlier, Jarrett's classmate, Interior Secretary and 1981 grad Ken Salazar, told the same interviewer that his new department definitely has its work cut out for it.

Prima Facie
With festive garlands behind and the Reading Room ahead, newly minted wedding celebrant (aka Assistant Dean for Admissions) Sarah Zearfoss presides over the ceremony in the courtyard.
Clara Jung recites her marriage vows in the Hutchins Hall courtyard.
Sam Zun recites his vows.
Clara Jung and Sam Zun in an arch leading into the Quad.
The bridal party gathers with, er, Rev. Zearfoss in a Hutchins Hall corridor.
Studying each other's favorite subject in the Reading Room.
It was only fitting for Assistant Dean for Admissions Sarah Zearfoss, newly ordained as a wedding officiant, to preside over a recent Hutchins Hall wedding ceremony—bride and groom (and 2009 grads) Clara Jung and Sam Zun might never have met if she hadn't admitted them both to law school. (Photos by Linda Wan Photography)
Twitterbook? Facetwitter?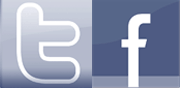 Sure, the Law Quad might look like a cross between Notre Dame Cathedral and Hogwarts School of Witchcraft and Wizardry. So we understand when people expect communications from us to be delivered in leather-bound folio form, or on creamy sheets of rolled, sealed, hand-illuminated parchment. In Latin.
But beneath Michigan Law's Collegiate Gothic skin lurks a glowing, apple-shaped heart. (OK, maybe we're more Bill Gates than Steve Jobs.) But whatever your personal operating system, we hope you'll use it to propel yourself through that series of tubes we know as The Interwebs to sign up and track Michigan Law happenings. On Facebook, simply look for Michigan Law Alumni and Friends. On Twitter, just sign up to follow UMichLaw.
---
---
Contact
Have a story of interest to fellow alumni? Contact Amicus editor John Masson, Media Relations Officer for Michigan Law, at amicusnews@umich.edu or call 734.647.7352.
---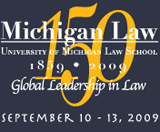 In Clinical Detail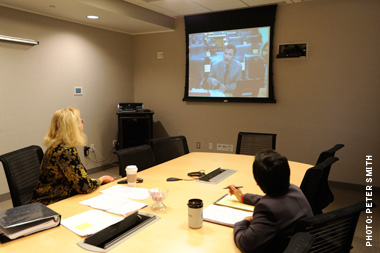 Teleconferencing professors Deb Burand, left, and Alicia Alvarez guide colleagues in Afghanistan and Kenya toward establishing new transactional clinics.
When law schools in Kenya and Afghanistan wanted the best possible information about establishing legal transactional clinics tailored to their unique situations, they sought out two Michigan Law clinical professors whose experiences are also unique: Alicia Alvarez, an experienced clinical professor, and Deborah Burand, a brand-new entrant to the field of clinical teaching. More ...
---
Hiring season over, world-class faculty grows by 10
With the pace of change in the legal profession accelerating daily, Michigan Law's 10 newest faculty members are positioned to help the school continue training lawyers widely acclaimed as among the country's most employable. More ...
---
Face the Koufax
Law prof, baseball fan Rich Friedman reflects on meeting famed pitcher, his boyhood hero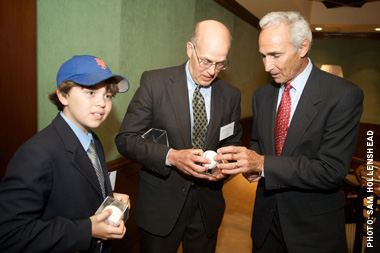 Professor Richard Friedman, center, with his son Danny and pitching legend Sandy Koufax at an alumni reception at the New York Mets' brand-new Citi Field.
By Professor Richard Friedman
Meeting one's childhood hero is dangerous; there is too large a chance one will be utterly disillusioned. But I knew that this would not happen to me when I learned the first words of Sandy Koufax to my 11-year-old son, who was standing, agape and delighted, several yards away.
Koufax, whose eyes are apparently still good enough to read a name tag from that distance, said, "Quit grinning, Daniel, and come over and say hello." More ...
---
Calling Aspiring Law Profs
The University of Michigan Law School has long been a sort of King's Highway leading to the legal academy, but now we aim to make that highway even smoother by offering more help to Michigan Law grads who plan on entering the teaching market. More ...
---
A Few Opportunities for Mid Summer Night's Drinks
Reconnect with M Law alums and faculty in summer gatherings around the country
Michigan Law is taking its 150th birthday party on the road with a series of "Sesquicentennial Summer Gatherings," for alumni and current students, featuring faculty speakers. The season kicked off on June 15 in Minneapolis at a reception hosted by Michigan alumni at Fredrikson & Byron, with remarks by Margaret Leary, director of the Law Library. To RSVP for any of these free events, please e-mail lawevents@umich.edu or call (734) 615-4535. More ...