Face the Koufax
Law prof, baseball fan Rich Friedman reflects
on meeting famed pitcher, his boyhood hero
By Professor Richard Friedman
Meeting one's childhood hero is dangerous; there is too large a chance one will be utterly disillusioned. But I knew that this would not happen to me when I learned the first words of Sandy Koufax to my 11-year-old son, who was standing, agape and delighted, several yards away.
Koufax, whose eyes are apparently still good enough to read a name tag from that distance, said, "Quit grinning, Daniel, and come over and say hello."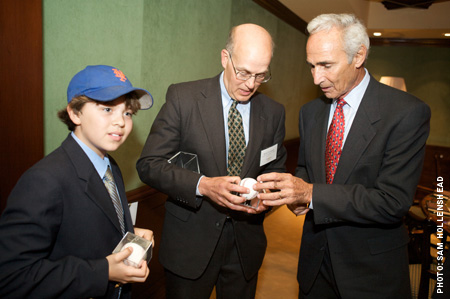 Several years ago, I was invited to give a talk at a conference in Milwaukee. Checking the calendar, I saw that the conference was scheduled for the second day of Rosh Hashanah, the Jewish New Year. This gave me pause. I am a reform Jew, and really observe only the first day of the holiday. In the past, I have taught on the second day—a practice I am reconsidering—but the prospect of giving a specially scheduled, relatively public talk on that day made me uncomfortable.
I consulted with my rabbi, who advised me not to do it. So I declined the invitation. The conference organizer, whose name (not a Yiddish one, my mother might have noted) was Burke, wrote back very graciously. "I have always had great respect for Sandy Koufax," he said, "and not just for his curve ball."
Koufax, of course, was the great left-handed pitcher for the Los Angeles Dodgers who, in an act of enormous cultural resonance, declined to pitch the first game of the 1965 World Series because it fell on Yom Kippur, generally considered the most significant of all Jewish holidays. "You don't know the half of it," I wrote back to Burke. "Not only am I Jewish, but I'm left-handed, I was a Little League pitcher as a kid, and I grew up a Dodger fan. And I grew up in Rockville Centre, New York, where Koufax also spent some time as a kid (though he wasn't happy there). So who do you think was my greatest hero growing up?"
End of story, I thought, but a few weeks later I heard back from Burke. They had rescheduled the conference, in part because of Rosh Hashanah. "And," Burke wrote, "there will be a baseball autographed by Sandy Koufax awaiting your arrival." I could hardly decline. Burke went to the trouble and expense of buying a ball from a dealer, and it has sat on my dresser ever since.
End of story again, I thought. I contemplated trying to send the ball to Koufax, perhaps through his old team, to tell him the story and ask for a more personalized signature. But this was among the many excellent ideas I have that I don't ever quite manage to follow up on. In the end, though, I didn't have to take much initiative.
Fred Wilpon, the principal owner of the New York Mets, and other generous donors established the Branch Rickey Collegiate Professorship of Law. Rickey, a 1911 graduate of the Law School, went on to become the most important baseball executive ever, most notably because he integrated major league baseball by bringing Jackie Robinson to the Brooklyn Dodgers. I have long thought that the Law School had not done enough to celebrate (that sounds better than "exploit" or "capitalize on," doesn't it?) its association with this great American hero. And, because I enjoy baseball and history and their intersection, I had become the Law School's resident Rickey expert.
So of course I was delighted to be invited in that capacity to emcee and speak on April 30 at an event at CitiField, the new home of the Mets, commemorating the establishment of the chair. Bud Selig, the commissioner of baseball, would be there. So would Branch B. Rickey, Branch's grandson, who is now president of the Pacific Coast League, and Rachel Robinson, Jackie's widow and truly his partner in his pioneering ordeal. And perhaps most tantalizing of all, I understood that so too might Sandy Koufax, who in high school had been Fred Wilpon's teammate and as a young major leaguer had been Jackie Robinson's.
I wangled an invitation for my son and also my nephew, a rabid fan who is also a stadium architect. Taking note of Koufax's reputation as a recluse, I told my son repeatedly, "Koufax may not come after all. Don't count on him being there." But, soon after the reception began, there he was, tall, trim, elegant, and instantly recognizable. Daniel was thrilled just to be close to him; clearly, it showed, and (while I chatted with alumni) Koufax was alert enough to notice and kind and sensitive enough to put him at his ease.
| | |
| --- | --- |
| | After the main program we got a chance to chat with Koufax. The first thing one might notice, shaking hands with him, is that his fingers are remarkably long. (It gave him better control over a curveball, he said, better ability to give it some extra movement.) It soon became clear how unfailingly gracious he is. Without hesitation he posed for every picture requested and signed—and, yes, personalized—every ball put in front of him; he thoughtfully asked for a blue pen because, he said, it left less doubt as to authenticity. And after a few minutes, it also became clear that he is insightful, informed, witty, and fun to talk to. (This is a recluse?) |
Like any great athlete, he had great confidence in his abilities; he talked about how he could control his pitches well enough to induce a batter to hit to a cavernous centerfield, where a speedy outfielder could run just about anything down. (And what about his wildness early in his career? "Much overrated," he said, and actually the numbers bear him out.) And yet there was not a trace of pomposity or arrogance or conceit. I think he knows that he is still likely to be the center of attention whenever he walks into a room, and yet he had a self-effacing quality. He smiled and bowed his head modestly when I told him my Rosh Hashanah story—I am sure he has heard variations on the theme many times—but he seemed eager to trade very old memories of our mutual hometown.
Near the end of the evening, my son, my nephew, and I were watching the closing minutes of a thrilling NBA playoff game in a private suite overlooking home plate. Oh, and for a while we were joined by a long-ago member of the University of Cincinnati freshman basketball team. "I don't run, I don't jump, I don't shoot," he said. "I shake hands."
We were lucky to get a chance to shake hands, and much more, with Sandy Koufax that night, and each of us will always relish the memory.