In Clinical Detail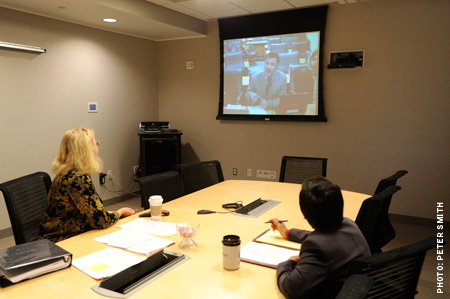 When law schools in Kenya and Afghanistan wanted the best possible information about establishing legal transactional clinics tailored to their unique situations, they sought out two Michigan Law clinical professors whose experiences are also unique: Alicia Alvarez, an experienced clinical professor, and Deborah Burand, a brand-new entrant to the field of clinical teaching.
Working with the International Development Law Organization (IDLO) in Rome, the two Michigan professors took part in a series of May videoconferences with counterparts from the law schools at Kenyatta University in Nairobi and the University of Kabul in Afghanistan. At issue: helping the two schools create and maintain transactional clinics that would help ensure legal protections reach even the poorest people in their countries.
"The vast majority of the poor in the developing world do not have access to legal services, and quite often their rights are trampled upon – even in sectors which aim to do good, like microfinance," said Jami Hubbard, manager of microfinance and legal counsel for IDLO. "So grazie mille to professors Burand and Alvarez, and to the University of Michigan Law School, for opening up a whole new world for educators, their students, and the poor who may be able to benefit from such a program."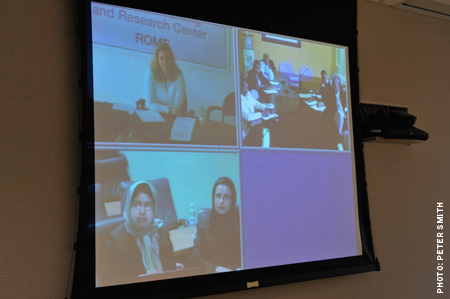 Because the overseas law schools were considering modeling their programs on Michigan Law's International Transactions Clinic (ITC) and Urban Communities Clinic, professors Alvarez and Burand were ideal choices for the videoconferences. Prof. Burand worked with Prof. Michael Barr and Adjunct Prof. Tim Dickinson to establish the ITC at Michigan last year, and before that she worked for seven years in the microfinance sector, helping arrange the tiny loans that increasingly are making huge differences in the lives of people in underdeveloped parts of the world. And Prof. Alvarez has over 20 years of experience in developing and running legal clinics here at Michigan, at De Paul's College of Law in Chicago, and in El Salvador.
Members of the law faculties in Kabul and Nairobi hoped to see whether Michigan's transactional clinics "could be a model for clinic programs in Kenya and Afghanistan which would provide the poor with access to justice," Hubbard said. "The dialogue was very exciting."
Interest was particularly keen in Kenya, Hubbard added, with questions already surfacing about a proposed clinic's structure, approach, and client types.
"Before the workshop my ideas about a transactional legal clinic were abstract and vague," said Prof. Leonard Aloo of the Kenyatta University School of Law. "I was really not sure how to go about starting one. Through the discussions with the team for University of Michigan, I was able to appreciate what it will take to begin a transactional legal clinic focusing on microfinance in Kenya."
Burand said she's thrilled to offer her help.
"This is a living example of Michigan's 'Global Leadership in Law,' " she said. "While I was sure that other US-based law schools would notice Michigan's leadership in launching an international transactions-focused clinic, it never dawned on me that we also would be seeding the ground for transactional clinics to take root in places like Kenya or Afghanistan."
Lesson learned, Burand added.
"Now I'm dreaming bigger," she said. "Wouldn't it be wonderful if one day students participating in Michigan Law's ITC could turn to their clinician counterparts in Kenya for local law support on a Nairobi-based transaction? "
As far as Kenyatta's Aloo is concerned, Burand may not have to wait all that long.
"Prior to the workshop I spoke of the idea of a microfinance transactional legal clinic in whispers," Aloo said. "I am now able to speak with confidence about it and have a clear vision about how to work towards starting the clinic in Kenya."