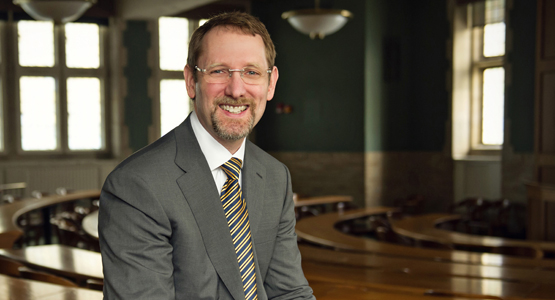 Mark West Named 17th Dean of University of Michigan Law School
Expert on Japanese law is M Law's current Associate Dean
By Katie Vloet
Mark D. West, currently the associate dean for academic affairs at the University of Michigan Law School and a highly regarded scholar whose research focuses on the Japanese legal system, will be the 17th dean of the Law School beginning Sept. 1, 2013, pending approval by the U-M Board of Regents.
The appointment of West, the Nippon Life Professor of Law, was announced Jan. 9 by Provost Philip Hanlon.
"This is an exciting time to be at Michigan Law," said West, who joined the Law School as an assistant professor in 1998. "We have spectacular new facilities. No law school has a finer faculty or a more outstanding student body. I am inspired by the dedicated community of alumni, faculty, administrators, and staff who are committed to facing the continuing challenges of legal education together. It is a tremendous honor to have been chosen as dean."
West said one of the strengths of the Law School is its collegiality, which has shaped his scholarship and teaching.
"I came to Michigan in part because faculty here care deeply about teaching students and producing first-rate scholarship. People are interested in each other's work, collaborate generously, and collectively create an atmosphere that is both intellectually rigorous and supportive," he said. "I appreciate our unique culture, and I look forward to helping to foster the spirit of collegiality for all of us who share a connection to this special place and to its history and traditions."
One of the top law schools in the country, the history of Michigan Law goes back more than 150 years, to 1859. The school has built a reputation not only as collegial, but also interdisciplinary, diverse, and globally engaged. University leaders said West is the right person to build on that history and shape the school's future.
"Mark West brings to the deanship the valued strengths of brilliant scholarship and strong academic administration," said President Mary Sue Coleman. "His global knowledge and experiences will be of great benefit to the future direction of Michigan Law. His overall expertise and insight make Mark an exceptional choice to lead one of the nation's premier legal education programs."
"I am very pleased that Professor West will assume the leadership of the Law School at a time when thoughtful approaches are needed to basic issues facing legal education, such as curriculum, costs, technology, and globalization," said Hanlon, U-M provost and executive vice president for academic affairs. "Mark West is an experienced administrator with a strong commitment to fostering an engaged intellectual community within the Law School and across the University, assisting students with the challenges ahead as the legal profession experiences change, and fundraising for Law School initiatives."
West will succeed Dean Evan Caminker, whose 10-year tenure will end on August 31. During Caminker's time as dean, the Law School has expanded its physical space, as well as the depth and breadth of its academic offerings. The footprint of the Law School has grown to include the new South Hall academic building, as well as the Aikens Commons and Kirkland & Ellis Café. Caminker has been widely praised for the completion of the structures, not just because of their architectural grandeur but also because he was responsible for getting them built during an economic downturn.
The Law School continues to adapt its curriculum to the challenges facing the legal profession, with a particular focus on making graduates practice-ready from day one. Caminker predicted that West, with whom he has worked closely, will do a superb job at taking the school forward.
"Mark West will be an outstanding new dean for the Law School. I'm confident he has the leadership skills and vision necessary to maintain and enhance the School's greatness and reputation in the years ahead," Caminker said.
West earned his JD from Columbia University School of Law, where he was notes and comments editor of the Columbia Law Review, and his BA from Rhodes College. Prior to West's career in academia, he practiced in the firm Paul, Weiss, Rifkind, Wharton & Garrison LLP in New York and Tokyo. He also clerked for the Hon. Eugene H. Nickerson of the U.S. District Court for the Eastern District of New York.
In the past decade, West has authored or coauthored five books, including Law in Everyday Japan and the casebook The Japanese Legal System. In books and articles he has explored such diverse topics as shareholder derivative suits, the evolution of corporate law, the education and career development of Japanese lawyers, and the ways in which Japanese court opinions frame love, sex, and marriage. In addition to teaching Japanese Law, he regularly teaches Criminal Law to first-year students. He also teaches Enterprise Organization, a course that draws on his background as a transactional lawyer.
West has organized major conferences, presented research widely around the world, and has been a consultant to the World Bank and to various government offices in the U.S. and Japan. He has been an Abe Fellow at the University of Tokyo Faculty of Law, and has studied and taught at Kyoto University, where he was a Fulbright Scholar and Fellow of the Japan Society for the Promotion of Science. From 2003 to 2008 he was director of the University of Michigan Center for Japanese Studies, and from 2003 to 2007 the director of the Law School's Center for International and Comparative Law.
Colleagues say West's range of experiences as a scholar and administrator will serve him and the school well. "I am delighted that Mark West will be the next dean of the Law School. He is a first-rate scholar, widely acclaimed for his creative, interdisciplinary, and comparative scholarship, and an accomplished administrator with energy, enthusiasm, and a comprehensive and far-reaching vision for the future of our school," said Ellen Katz, professor of law, who chaired the search committee for the new dean. "Based on his deep knowledge of this institution, he will be able to join with students, faculty, staff, and the University community to build most effectively on the strong position achieved through Evan's dedicated leadership."
West has two children: a son who is a sophomore at the U-M School of Music, Theatre & Dance, and a daughter who is a first-year student in the U-M College of Literature, Science, and the Arts.
more ....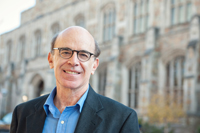 ZEAL's mini-MBA program a hit with MLaw students
By John Masson
Whether they were just dipping a curious toe into the swift current of modern-day business or they had more serious plans to pursue business or business law as a career, a standing-room crowd of 120 law students returned from break two days early this month to immerse themselves in the first Michigan Law mini-MBA course.
"We had those two groups in that classroom for two days, and that's mission accomplished for us," said Michigan Law Prof. Erik Gordon, director of the school's Zell Entrepreneurship and Law (ZEAL) Program, which organized the mini-course. "We want to add one more advantage to getting a Michigan Law education."
The program kicked off with a strategic overview from 1983 Michigan Law graduate Bill Goodspeed, who flew in from Maine to give his talk, then progressed through 13 hours of instruction Monday and Tuesday from senior U-M Ross School of Business professors on some of the basics of accounting, finance, business economics, and marketing.
Formally entitled "Business Basics for Lawyers," the single-credit session was the first offering of a course that's likely to be presented more than once a year. More law students expressed an interest than could be accommodated this time around, Gordon said.
"It's part of ZEAL's role in offering Michigan Law students of all ilks broader exposure to the business side of the world," Gordon said. "When they pick up a newspaper and read a story about 'fully diluted earnings per share,' they would like to know what that means."
One reason to offer the mini-course before the formal start of the semester, Gordon added, was to make sure students pursuing full-length, business-oriented courses at the Law School this term have the vocabulary and intellectual underpinnings to help them excel.
Another reason is the growing importance, for everyone, of having some basic understanding of how business works, he said.
"An understanding of business principles is important not just to business people or business lawyers, it's important to university presidents, mayors of cities, nonprofit leaders, and everybody else who wants to have an impact," Gordon said. "All of those people have some business aspect to their professional lives, and the business aspect is more important now than it was 20 years ago."
The bottom line, Gordon said, is giving Michigan Law students the tools they'll need to be even more successful.
"There are business aspects to any activity that requires human or financial resources," he said. "So whatever you're doing to make a difference in life, you will do better if you understand something about business."
more ....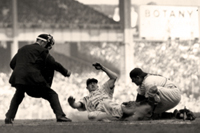 Alum helps pick this year's only new members of Baseball Hall of Fame
By John Masson
One of the highlights of Tom Simon's lifelong love affair with baseball history almost didn't happen.
Simon, a 1990 Michigan Law grad who now practices in Vermont, was filtering through his mail one day last fall when he came across an envelope from the Baseball Hall of Fame in Cooperstown, N.Y. He's donated to the Hall before, so at first he figured it was just a donation request.
"I really was planning to toss it right into the recycling," said Simon, who, apart from his legal work, also has authored and edited several books on baseball history, including The Green Mountain Boys of Summer, about Vermonters who made it to the big leagues.
But something prompted him to open the envelope first. Inside he was amazed to find an invitation to help pick this year's inductees. "Needless to say, I immediately got on the phone to the Hall of Fame, and said 'Yes, of course I'll be there,' " Simon said. "And it really was an incredible experience."
The Baseball Writers Association of America selects inductees from baseball's modern, post-expansion era, but Simon was assigned a position on the "pre-integration committee," responsible for examining Hall of Fame candidates whose greatest contributions to the game came before Jackie Robinson integrated Major League Baseball (with the help of 1911 Michigan Law grad and Brooklyn Dodgers general manager Branch Rickey) in 1947.
He attended baseball's winter meetings last month in Nashville, where he met with fellow pre-integration committee members, including sportswriters, baseball executives, another historian, and Hall of Famers Bert Blyleven, Don Sutton, Phil Niekro, and Pat Gillick. Their mission: to choose the worthiest candidates from a pre-selected list of 10 names.
"I did a lot of homework, as one of the two historians on the committee," Simon said. "My objective was to become as well-informed about these guys as I could in the two months prior to the vote. That way I could answer any questions and voice my opinions, pro or con."
Under consideration by the pre-integration committee were umpire Hank O'Day, Yankees owner and original Yankee Stadium builder Jacob Ruppert, players Deacon White, Bill Dahlen, Wes Ferrell, Marty Marion, Tony Mullane, and Bucky Walters, and executives Al Reach and Samuel Breadon.
In the end, committee members overwhelmingly selected White, O'Day, and Ruppert. And because the BBWAA declined to select anyone at all from its list of 37 candidates this year, the three selected by Simon's committee are the only ones who will join the Hall of Fame this summer.
"Certainly no sport has as much of a love affair with its history as baseball, and no sport has the same kind of history as baseball," Simon said. "So to be selected to participate on this committee with Hall of Fame ballplayers and executives was a real shock and a real thrill."
Simon said his own love affair with baseball history flagged a bit under the pressure of his education at Michigan Law, but was rekindled one spring in Ann Arbor when he spotted Mike Sowell's The Pitch That Killed(Macmillan, 1989)—the story of Cleveland Indians shortstop Ray Chapman, the only man ever killed on a big league ball field after he was hit in the head by a pitch—at the original Borders store in downtown Ann Arbor.
"I read that book and thought, 'Boy, what I really want to do someday is write a book like that,' " he said. He has been able to write baseball books, he added, but so far only as a sideline to his full-time job as a trial lawyer.
He's also managed to find time to play on the Burlington Cardinals, a senior league team featuring teammates like former Boston Red Sox and Montreal Expos pitcher Bill "Spaceman" Lee and the mayor of Vermont's largest city.
But that literary someday is coming.
"There are still books that I want to write," he said, "but for right now I'm focused on family and work life and coaching my kids through Little League."
more ....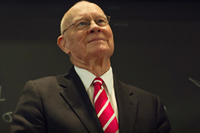 White: out
By Katie Vloet
Fifty faculty members formed a semicircle in Hutchins Hall 250 one recent Thursday, waiting to pay tribute to their retiring colleague, Prof. J.J. White.
And waiting. And waiting. It was White's last class as a professor at the institution where he has taught since 1964—before any of his students and many of his fellow faculty members were born. And, by golly, he was going to teach, right until the last minute.
"It's like the pawn shop case...," he prompted a student. "Oh, yeah, the big problem is whether it falls under Article 9," the student responded, then sighed with visible relief as White nodded. The moment of Socratic method-inspired terror had passed.
And the day's class about the Uniform Commercial Code—a topic on which White is a leading authority—had ended. But the class went on, and the faculty waited some more.
"Do you want to tell us anything about the, uh, format of the exam?" one student asked. Everyone laughed. Another student asked if it would be helpful to look at his previous exams that are on file in the library, since they are all from 1984 or earlier. "Katherine," White responded, "I'm not taking this course, I'm teaching it."
Finally, Dean Evan Caminker raised his hand, and White called on him.
"There are about four decades of students who came before you," Caminker assured the students, "who had no more information than you do about what to expect from Professor White's exams." The students and faculty, well aware of White's hard-earned reputation as a tough professor, all laughed.
Caminker added, right before the faculty and students gave White an ovation during the Law School's traditional "clapping-out" ceremony: "I hope you have appreciated this opportunity to learn from one of the true masters."
Indeed, White, the Robert A. Sullivan Professor of Law, is one of the nation's top scholars in the field of commercial law. His book Uniform Commercial Code (with Summers and Hillman) is the most widely recognized treatise on the subject. He is also the author of several casebooks on commercial, bankruptcy, and contracts law.
White earned a BA, magna cum laude, from Amherst College and a JD, Order of the Coif, from Michigan Law ('62). After graduating, he practiced in Los Angeles. In 1964, he began as an assistant professor at Michigan, then was promoted to associate professor in 1967 and professor in 1969. From 1978 to 1981, he was associate dean of the Law School.
Throughout his nearly five decades on the faculty, he built a reputation not just as an expert in the field, but also as a tough, fair, and often very funny professor. Online professor guides from former students describe him as "entertaining, curmudgeonly," "one of the best professors I've had at the Law School," "he puts you through the wringer each time he calls on you in class," but he also "truly cares about you as a student and person."
And one former student summed up White this way: "Hard. Fair. Brilliant." And now we can add: Retired.
more ....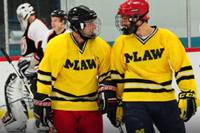 Chilling out with MLaw's student hockey team
By John Masson
Sure, Michigan Law is chock full of the leaders and best—but now we have the champions of the West, too. The far western Detroit suburbs, that is. Because Michigan Law's club hockey team, the Ambulance Chasers, recently captured the championship of their men's league.
The group of 15 or so skaters, most of whom are Michigan Law students or graduates, plays twice a week at the Ann Arbor Ice Cube, said team co-captain and 3L Max Hensley. The games are usually late-night affairs, and the following day's classes come pretty early, but for Hensley and his teammates the games are well worth the sacrifice of a little sleep.
"Getting out two times a week and not thinking about the law is a good thing, in my opinion," said Hensley, 28, who grew up in Alaska and has played hockey almost all his life. "I've showed up bleary-eyed for my share of 8 o'clock classes, but you just have another cup of coffee and get to it."
Andrew Park, who continues skating with the team even though he graduated in May 2012, agreed.
"Any physical activity helps so much when you're in an intellectually demanding institution like Michigan Law," Park said. "The league's playoffs happen to coincide with the finals schedule pretty harshly every winter, but when I was on the ice I was able to clear my mind of anything that wasn't that game. Being able to do that for an hour and a half a couple of times a week, there's no doubt it helped preserve my sanity."
Hensley said the Chasers is home to a wide variety of skill levels, from those who played hockey through high school to others who may have skated on their university's club teams. It's fun to compete, he said, but that's not the real point.
"We do try to win," he said, "but we mostly just have fun."
Sometimes the winning doesn't come easy. The team's first playoff game was a tight one, with the Chasers fighting back from an early deficit to end regulation time tied at 4-4. An overtime period didn't settle matters, and neither did the first round of one-on-one shootouts. It wasn't until an extra round of shootouts that the Chasers' Mark Collyer was able to stuff one past the opposing goalie for the 5-4 win.
The next game was settled in regulation time a couple of days later, with a 5-3 victory. The championship game followed.
The Chasers have been around since at least 2004, Hensley said, and the team is a social fixture in its players' lives.
"It's a really good way to meet folks," he said. "I really appreciated, when I was a 1L, having the older guys around, and also the alums. It helps you get perspective on things, which is easy to lose when you're trapped in the middle of law school."
Park agreed, but added that for him, graduation didn't mean it was time to hang up his maize-and-blue sweater.
"I started skating with the team my 2L year, and somehow the guys that join the team are always good people," Park said. That's one reason he still travels from Detroit's northern suburbs for twice-weekly games. "Great sport, good people, worth the drive."
In March the group is set to host the annual Justice Cup, a tournament featuring teams from four Michigan law schools: Michigan, Michigan State, Wayne State, and University of Detroit-Mercy.
But between now and then, there's a tradition to uphold. A whole new beer league season beckons.
"We're definitely all friends," said Hensley, who is heading to Seattle for a clerkship on the Ninth Circuit this spring. "We go to concerts, there's a pond hockey tournament in Whitmore Lake that we play in. ... It's one of those rare social things you can do in law school that helps you get out of the bubble. I think everyone appreciates the release."
more ....