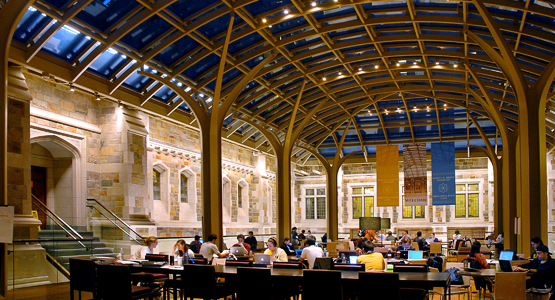 MLaw Collegiality Has a New Home
With the opening of the Robert B. Aikens Commons in September 2011, the collegial spirit you probably remember from your time at Michigan Law became embodied in its architecture. The Commons is a place where students, faculty, and staff congregate—eating, drinking, studying, or chatting. This video captures not only the Commons' grand design, but also the open, collaborative atmosphere of MLaw.

New MLaw Entrepreneurship Clinic in High Demand
By John Masson, Amicus editor
Ten Michigan Law students selected for January's inaugural class in the school's new Entrepreneurship Clinic are learning just how much goes into establishing a new entrepreneurial business.
Drawing on business ideas created in the University of Michigan's top-ranked medical, business, and engineering schools—as well as in every other part of the Ann Arbor campus, including the Law School itself—the Entrepreneurship Clinic will put law students to work protecting intellectual property interests, forming proper business entities, and conducting the myriad other legal tasks associated with launching a new enterprise. At the same time, the clinic will give law students the real-life experience they need to facilitate entrepreneurial growth after they graduate.
The clinic experience will be invaluable for law students about to graduate, said 3L Tom Stasi.
"You're going to be working as a lawyer pretty quickly after getting your diploma, so you want some experience working first-hand with clients," Stasi said. Even for students who work as summer associates at law firms, he added, that client interaction isn't usually available.
"It's like playing varsity versus playing JV," he explained. "Summer associates are on the varsity team, but they're not on the field. When you're in a clinic, it's like playing on the JV—you get a lot more playing time."
There are other possibilities for students, as well, said Prof. Dana Thompson, '99, the clinic director.
"Some law students may get the entrepreneurial bug themselves," she said. "Students are such an ideal group to work with on entrepreneurial projects. They really see things in an entirely different light."
The clinic, a key component in the Law School's Zell Entrepreneurship and Law Program (ZEAL), will also be taught by Prof. Bryce Pilz, a Michigan Law grad (2000) who earned an undergraduate degree in engineering from the University (1997) as well.
Both professors say law students' response to the new clinic has been astounding. Fifty-five students listed it as their top choice for the initial 10 seats—more than did so for any of the Law School's 13 other clinics, Thompson said. As the clinic ramps up, the number of available seats will grow to 24.
The reason for all that interest, according to Pilz, is clear. The employment landscape is changing—not just for lawyers—and students know it. As a result, a new entrepreneurial spirit is developing as students pursue their own business ideas.
"Top schools like Michigan used to be feeders for established companies," Pilz said "But students now are much more entrepreneurial. The DNA of the University of Michigan is changing. We're going to have a lot of great clients to work with, because the talent is here. It's always been here."
more ....

Hundreds Pack Commons for MLK Day Program
By John Masson, Amicus editor
Organizers of Michigan Law's Martin Luther King Day forum on Jan. 16 had an ambitious goal in mind: shedding light on the thinking of the slain civil rights leader by shedding light on his relationship to the complicated story of Detroit.
And that's what happened, nearly half a century after King was assassinated, when a panel of distinguished Detroiters gathered in front of a standing-room-only crowd in the Robert B. Aikens Commons to discuss how the future of the city relates to the greater idea of economic justice.
Relatively few now remember how active King was in Detroit, which even then was struggling to fight poverty, racism, and white flight. Fewer still remember that King first delivered what became known as his "I Have A Dream" speech in Detroit's Cobo Hall, then a shiny new downtown arena.
The forum, "Dr. King's Vision for Economic Justice: Focus on Detroit," featured Detroit City Council President Charles Pugh, New Detroit CEO Shirley R. Stancato, Excellent Schools Detroit CEO and 1994 Michigan Law grad Dan Varner, and Michigan ChronicleSenior Editor Bankole Thompson. The panel was moderated by Professor Angela Dillard, director of the Residential College and professor of Afroamerican and African Studies, and opening remarks were delivered by Professor Dana Thompson, '99, Director of the Entrepreneurship Clinic at the Law School.
The discussion focused on the future of the city and asked how city government, foundations, the media, nonprofits, educators, banks, and the corporate sector can work together to define the future for Detroiters. High on the agenda was the looming possibility that Michigan Gov. Rick Snyder, a 1982 Michigan Law grad, will appoint an emergency financial manager for the city, reducing or eliminating the authority of the city's elected leaders. And like most other matters relating to the city, the panelists had varying opinions.
"This person would have unchecked, unmatched, unlimited power," Pugh said of an EFM. "We don't need an emergency manager, period. ... We are competent. We have what it takes."
Stancato, on the other hand, is on the review board that's going over the city's finances on behalf of the governor, trying to determine whether an EFM is needed. For his part, Bankole Thompson said that "Detroit's leadership is right now on trial," further noting that particular situation hardly came about overnight.
The city's leaders, Bankole Thompson added, "really need to step up and prove the skeptics wrong." And that includes the mayor, the city council, and the city's labor unions.
Martha S. Jones, an associate professor of history and Afroamerican and African Studies and an affiliated LS&A faculty member at the Law School, helped organize the event and was pleased by the turnout and discussion. She urged people to remember there's good news, too, in the city: despite its many challenges, the creative and vital side of Detroit could help provide a roadmap for what economic justice looks like in the future.
"Nearly a half century ago, Dr. King called upon us to take up the challenges of entrepreneurship, development, public-private partnerships and self-sufficiency that were and remain the building blocks of economic justice," Jones said. "King's challenge was prophetic, and in the city of Detroit, his vision of economic justice remains a moving aspiration."
See a slideshow of the event, or watch a video of the program.
more ....
One Michigan Supreme Court Case, 5 MLaw Alumni
By Katie Vloet, Law Quadrangle editor
A recent argument before the Michigan Supreme Court could have doubled for a Michigan Law reunion.
Vivek Sankaran, '01, clinical assistant professor of law and director of the Detroit Center for Family Advocacy, served as the attorney for the respondent, David Morris, a father whose parental rights were terminated, in the case In Re C. I. Morris, Minor.
The case involves a failure to notify the parents, as required under the Indian Child Welfare Act, even though the Department of Human Services knew the child might have Indian heritage. Eric Restuccia, '93, the deputy solicitor general for Michigan, argued on behalf of the Department of Human Services.
The attorneys for amicus curiae American Indian Law Section of the State Bar of Michigan were Matthew Fletcher, '97, and Cameron Fraser, '00, and the attorney for amicus curiae Little Traverse Bay Bands of Odawa Indians was Allie Greenleaf Maldonado, '00.
"It was rewarding for me to see five lawyers from the University of Michigan Law School trying to help the court find a solution to this thorny legal issue, " Sankaran said. "It served as a reminder of the important contributions our graduates are making in developing the law."
A decision is expected by July. Read more about the case here.
more ....

Retirement and Restatement coincide
Waggoner retires as final volume of Restatement hits street
By John Masson, Amicus editor
For Prof. Lawrence Waggoner, the publication of the third and final volume of the American Law Institute's (ALI's) Restatement (Third) of Property: Wills and Other Donative Transfers is a fitting way to round out a long and distinguished career.
Waggoner, a 1963 Michigan Law grad, served as the reporter—in essence, the lead writer—of the massive project. He saw the last part of the work—which covers rules governing class gifts, powers of appointment, future interests, and perpetuities—published last month, just weeks before his retirement, after 36 years on the Michigan Law faculty, becomes official.
For judges and legislators, having a substantial influence on the law may become old hat. But for most who practice in courthouses or toil on law school campuses, one of the best ways to have outsize impact on the law is to work with ALI, laying out what amounts to best practice recommendations for courts to adopt—should they so choose.
So far, Waggoner said, many courts have so chosen, citing the work in their decisions in support of changing prior law or making new law.
"We don't have any power to force courts to do what we say," said Waggoner, the Lewis M. Simes Professor of Law. "It's just a matter of whether they accept our analysis and arguments. If I write a law review article, it just says 'This is what Waggoner thinks, assuming it's read at all.' But the Restatement comes with the imprimatur of the ALI, and that gives it a lot more clout."
Waggoner teamed up with Prof. John H. Langbein of Yale and a group of 15 advisers, including practitioners, state appellate court judges, and others, to painstakingly produce the work. First the reporters wrote a draft, which the advisers pored over and criticized. Once suggested changes were incorporated and approved, the newly revised document went to the larger ALI Council, where the process was repeated. Finally, the approved document was approved by the full membership at ALI's annual meeting.
All three volumes followed a similar process, Waggoner said. All together, it took 20 years.
"The Restatements started as a way to synthesize complex law," Waggoner said, "but that's changed over the years. Now it's well accepted that Restatements state what the Institute thinks the law should be."
Read more about the Restatement (Third) of Property.
more ....

Fertile Ground: Fall Semester at Michigan Law
The Law School stays a pretty busy place. Fortunately, a team of talented photographers can help you keep up with highlights from the fall term with a slideshow. Check it out and let us know what you think!
MLaw grads take top prizes in writing competition
By Katie Vloet, Law Quadrangle editor
Two recent Michigan Law graduates have captured the top honors in a prominent writing contest for papers about food- and drug-related topics. Grace Wang won first prize in the short paper category of the Food and Drug Law Institute (FDLI) H. Thomas Austern Memorial Writing Competitions, and Bethany Fox won second place.
Wang, '11, first began working on the topic of her paper when she was a student in Professor Rebecca Eisenberg's FDA Law class. With Professor Eisenberg's encouragement, she expanded the paper, "Teva v. Eisai: What's the Real 'Controversy'?," and submitted it to the competition when she was a 3L.
Teva v. Eisai dealt with patents and Alzheimer's disease drugs. "The case piqued my interest because it dealt with drug regulation and patent litigation, the field I planned to work in after graduation," Wang said. "There are so many interesting issues in FDA law right now, like drug shortages and direct-to-consumer advertising, so I am incredibly honored that out of 57 short paper entries, they selected my paper on jurisdiction as the first place winner."
Fox, '11, began writing her paper—"Closing the Information Gap: Informing Better Medical Decisionmaking through the Use of Post-Market Safety and Comparative Effectiveness Information"—following an externship at the FDA in her 3L year. "I was honored and very surprised" to learn of the FDLI award, she said.
FDLI published the winning papers in the Food & Drug Law Journal, and a version of Wang's paper will be published in the Michigan Telecommunications and Technology Law Review (vol. 18.1).
more ....