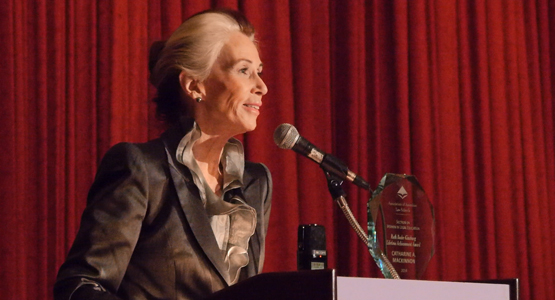 Prof. Catharine A. MacKinnon Wins Ruth Bader Ginsburg Lifetime Achievement Award

By Jenny Whalen, Law School Communications
In the centuries-long campaign to advance women's rights, the service of some has inspired generations even as their scholarship has rewritten the law of nations. This year, the Association of American Law Schools' (AALS) Section on Women in Legal Education recognized Prof. Catharine A. MacKinnon as one of those extraordinary women.
The 2014 recipient of AALS' Ruth Bader Ginsburg Lifetime Achievement Award, MacKinnon, the Elizabeth A. Long Professor of Law at the University of Michigan and long-term James Barr Ames Visiting Professor of Law at Harvard, is only the second woman to receive the honor after Supreme Court Justice Ginsburg herself.
more ....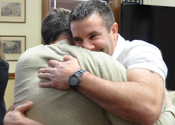 Michigan Innocence Clinic's Victor Caminata Exonerated from Arson Conviction

By Jenny Whalen
One moment. An indiscernible measure of time when compared to the days, months, and years that encompass a lifetime, but no less capable of life-altering change. It took only a moment to read the verdict that wrongfully sent Victor Caminata to prison for arson in 2009 and an identical one to announce his exoneration on Jan. 22.
And though joy was the prevailing emotion in the courtroom as Caminata celebrated that exoneration with family, friends, and his Michigan Innocence Clinic team, feelings were tempered with the knowledge that many more such moments had been lost during the five years Caminata had been wrongful imprisoned.
more ....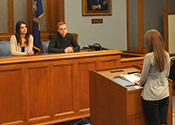 First European Law Moot Court Team Prepares for Regional Competition

By Jenny Whalen
European Law Moot Court (ELMC) tip No. 14 reads: Know your oral pleadings by heart—if your coach wakes you in the middle of the night you should go: "Mister President, honoured members of the court ..."
To an observer, such advice may seem extreme, but to the University of Michigan Law School's first ELMC team, it is just one component of an intensive, months-long training regimen.
"This is one of the toughest and most rewarding experiences you can have during law school. You really need to be prepared for it," said LLM Nika Bacic. A member of the 2011 Central and East European Moot Court's first-place team, Bacic has stepped into the role of coach at Michigan Law, advising LLM Chloë Bell, and 3Ls Ali Beidoun, Brian Dearing, and Kyle Luebke as they prepare to compete in one of four ELMC regional finals.
more ....

African American Alumni Reunion to be Held March 21-23

By Amy Spooner, Law School Development
Registration is underway for Michigan Law's inaugural African American Alumni Reunion, taking place March 21-23, 2014, in Ann Arbor. The reunion is being held in conjunction with the 36th annual Alden J. "Butch" Carpenter Scholarship Banquet on March 22.
"The Butch Carpenter Banquet is the most important event of the year for bringing the black alumni and student communities together," said Elizabeth Campbell, '78, who is leading the reunion effort along with fellow chairs Curtis Mack, '73, and Saul Green, '72. "It was the natural choice to hold the African American Alumni Reunion in partnership with the banquet."
more ....

Michigan Law Students Explore Ethical Issues During Professionalism in Action Program

By Lori Atherton, Law School Communications
What are a lawyer's duties to the public and profession? Does being a successful litigator require the attorney to be uncivil or combative? If a lawyer takes less time performing legal work for a client than originally anticipated, should he charge the client less than the amount of money on which they agreed?
These ethical questions were posed to Michigan Law 1Ls during the Professionalism in Action Program held Jan. 24. Now in its second year, the program is a partnership between the Law School and the State Bar of Michigan, and aims to help first-year students develop an understanding of the importance of ethics, professionalism, and civility in their legal careers. The program complements other ethics-focused offerings at the Law School, including courses, speaker's series, and the Commitment to Integrity ceremony.
more ....