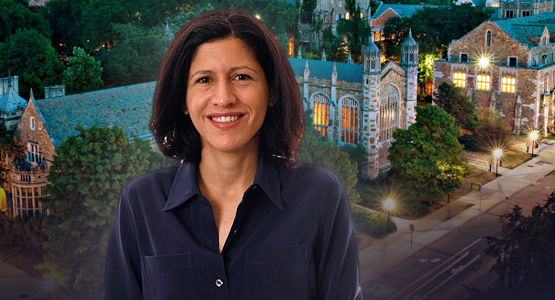 Katz brief in Supreme Court case supports upholding Voting Rights Act

By John Masson, Amicus editor
As oral arguments proceeded this week in a Supreme Court case challenging a key provision of the Voting Rights Act, Michigan Law Prof. Ellen Katz and the school's Voting Rights Initiative argue that the VRA's regional provisions continue to provide vital protection to minority voters in the places where they apply.
Petitioners in Shelby County, Alabama v. Holder challenge Section 5 of the Act, which requires jurisdictions with a history of discrimination in voting to obtain federal approval before making changes to their electoral laws. Shelby County argues that Section 5 is no longer needed. But a study authored by Prof. Katz and Michigan Law's Voting Rights Initiative indicates that minority voters continue to face distinct obstacles to political participation in places subject to Section 5.
The VRI Study examined litigation brought under Section 2 of the VRA, which, unlike Section 5, applies nationwide and accordingly provides a lens through which to make regional comparisons. Prof. Katz and her students found that Section 2 plaintiffs have been more likely to succeed, and succeeded more often, in covered jurisdictions than in non-covered ones. They also found that courts hearing Section 2 claims in covered jurisdictions were more likely to find certain conditions linked to voting discrimination, including things like intentional discrimination, extreme racial polarization in voting, and a lack of success by minority candidates.
The study may well inform the deliberations of the justices in the coming months. The lower courts in Shelby County repeatedly cited the Katz study as providing concrete evidence supporting Congress's 2006 decision to reauthorize Section 5. The study, moreover, addresses the critical question posed by Justice Kennedy when the Court last examined the VRA four years ago, namely, why places subject to Section 5 should still be singled out for distinct treatment.
Prof. Katz explained why in "Shelby County v. Holder: Why Section 2 Matters," an essay she published recently on SCOTUSblog's online Shelby County symposium —along with the brief she and the VRI filed as amicus curiare in the case.
"A meaningful comparison of covered and non-covered jurisdictions must account for the fact that Section 5 shapes governance decisions in significant ways in places like Alabama, Texas, and South Carolina," Prof. Katz said. She notes that hundreds of proposed changes to election laws have been blocked by the Department of Justice; hundreds more have been withdrawn or altered in the course of Section 5 review; and many more changes were never proposed because local officials knew they would not past muster under Section 5.
The result, Prof. Katz said, is that fewer instances of discriminatory practices should be found in places subject to Section 5 if, as critics of the VRA contend, places like Alabama are truly no different from places like Ohio. However, she said, "our Section 2 study is one piece of evidence that suggests this is not the case."
She pressed the point with an analogy: "A patient being successfully treated on dialysis might appear quite similar to a person with normal kidney function," she said. "But no one would suggest that treatment could be terminated without consequence. And yet, that's essentially the argument critics of the VRA posit when they compare places like Alabama to places like Ohio."
Prof. Katz also noted that "Section 5 is an operational statute, and that fact should not be ignored when places subject to it are compared to places that are not."
More information is available on the American Bar Association website and on the SCOTUSblog's Shelby County page.
more ....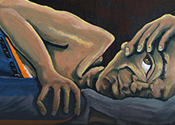 Keynoter: Heavy U.S. reliance on solitary confinement an error that's 'especially profound'

By John Masson, Amicus editor
Summarizing his approach to opening the Michigan Journal of Race & Law's recent symposium on solitary confinement in prisons, Yale Law Prof. James Forman Jr. didn't have a hard time finding words.
"We have to make the invisible visible," Prof. Forman said. "We have to counter isolation with empathy. We have to counter isolation with community."
He admitted that's not an easy task. Prisons are designed, after all, to isolate, whether they employ solitary confinement or not. But when American jails and prisons are stuffed, as they are now, with 2.3 million people—up from just 300,000 people as recently as 1970—it becomes the duty of law students and law schools to pay closer attention, he said.
"The silence in our law schools is hard to believe, when you think about it," Prof. Forman said. "We have a larger percentage of our people behind bars than any country in the world, yet law schools concentrate on the front end of the process. What about after the trial ... or more likely after the plea? After the prison door closes we largely stop paying attention. We close our eyes in law schools, and we close our eyes as a society."
Prof. Forman's talk concentrated on three aspects of solitary confinement: its impact on prisoners, its context with respect to the overall state of criminal justice, and potential solutions.
He also recalled the words of various experts on solitary confinement, from Supreme Court justices to ex-POW Sen. John McCain.
"McCain says, 'It's an awful thing, solitary—it crushes your spirit and weakens your resistance more effectively than any other form of mistreatment,' " Prof. Forman said of the senator held in solitary for long stretches by the North Vietnamese after his jet was shot down.
Those in attendance also heard via video clips from former prisoners who themselves experienced long-term solitary confinement.
Prof. Forman is no Pollyanna. There are serious problems with solitary confinement, he said, but it's also important for prisons to be able to deal effectively with people who are a threat to themselves, their fellow prisoners, and correctional officers. But he said it's becoming increasingly clear that solitary confinement is not the best way to do that.
"We can work to make sure that people sent to solitary are sent there for appropriate reasons," he said.
He also pointed out several states that have made significant progress in reducing their solitary populations: Maine, which has cut its numbers in half; Colorado, which is closing one of its "supermax" solitary prisons; Illinois, which also has closed a large facility; Mississippi, which is a national model for reducing solitary numbers; and Connecticut, which has reduced its solitary population by 75 percent in two years "with no negative impact whatsoever."
Prof. Forman summed up by noting that every generation makes its mistakes. The urgent issue is fixing them.
"History will judge some of these errors to be especially profound," Prof. Forman said. "Future generations will look back and say, 'How could they ever have let that go on?' And I think the number of people we have incarcerated—and how we treat them when we incarcerate them—will eventually be seen as an error of that sort."
The symposium featured three panels covering isolation and mental health, the prevalence of solitary confinement in Michigan, and strategies for reform. Among the panelists were Robert Hillary King, one of three prisoners held for decades in solitary confinement in the Louisiana State Penitentiary at Angola; Christopher Epps, head of the Mississippi Department of Corrections and incoming president of the American Correctional Association; and many other academic and practitioner experts.
more ....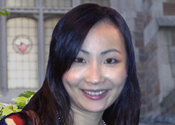 Shuping Qi's Journey From the Lab to the Law School

By John Masson, Amicus editor
Back when Shuping Qi, '12, was a scientist, she had to work hard to remember what life was like outside the lab.
Qi, who earned a PhD in pharmacology, spent most of her time there, after all, and sometimes found herself wondering whether it might be better for her to break out and see what the wider world might hold.
"I was a scientist, but I didn't like the environment," said Qi, who was doing brain tumor research. "It was a pretty hard decision to leave, but I figured I wanted to be in a more dynamic environment."
Fortunately, Qi had a few cards up her sleeve when she decided to leave UCLA. Having grown up in Beijing and Hong Kong, she was completely fluent in both Chinese and English. She also had an interest in IP law—and a continuous thirst for learning.
"I've never been a totally goal-oriented person," she said. "I just love learning. It's fun. And I want to enjoy the process."
So Qi applied to Michigan Law, was admitted, and left California behind.
"I came here because it's a good school," she said. "I also heard it was strong in patent law, and that appealed to me at the time."
But a funny thing happened as Qi progressed through law school. She found herself becoming more interested in transactions. She signed up for Michigan Law's International Transactions Clinic and spent a year and a half working on a deal involving a lab agreement for Pilus Energy, a company with a proprietary technology for converting contaminants in water into energy. Pilus intends to implement that technology in China and has been working with the ITC through the California-based firm of Shaub & Williams.
"This has been a really interesting one, first because it's IP related," Qi said of the Pilus deal. "Plus, it involves a lot of business stuff going on. We spent a lot of time trying to figure out the right transaction structure."
For Qi, one of the most interesting parts of the deal was the biotech. "They have a bacteria-based robot, which does a lot of things, all based on genetically engineered bacteria," Qi said. "So we needed to understand the technology itself, and my biology background was really useful in helping me understand what is going on with that technology."
Qi had another advantage, as well.
"Coming from China helps me understand the cultural side a little better," she said. "Say we're working on a draft between Pilus and a Chinese university. Understanding the culture there helps us frame our issues; for example, whether China would have regulation on this sort of licensing. Would they be ok with transporting bacteria over the border? These are all issues that a cultural background would help understand."
Cultural awareness has its limits, of course; questions of Chinese law still must be referred to Chinese attorneys.
"Whenever it comes to a specific local law issue, we consult a local lawyer over there," Qi said. "But it's still nice to have the background, so we could sort of see the questions before they come up."
For Qi, the bottom line is clear after working on the Pilus deal for a year and a half.
The exposure to transactional law at Michigan Law kindled an interest that she'll pursue now that she's graduated. She's set to begin work in Hong Kong for a British firm that specializes in advising European and Asian corporations on accessing American capital markets.
"I was interested in IP law when I got here—that's a natural path for scientists," she said. "But I guess I became more interested in transaction law, instead. Because it's a puzzle, like a translation thing."
Law school, she added with a laugh, can have a strange effect on people.
"It's kind of transformative. It really changes your thinking process," she said. "I know it changed me. I'm able to look at one issue from several perspectives now, and I don't jump to conclusions."
more ....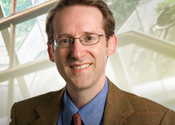 Prof Pens Sustainability Blueprint for President's Second Term

By John Masson, Amicus editor
Now comes the hard part.
Matching the soaring rhetoric of the president's second inaugural address with the political realities of his upcoming term is going to call for tough choices. David Uhlmann, a professor at Michigan Law and director of its Environmental Law & Policy Program, has some ideas about how best to move forward. Like using a carbon tax to drive down both greenhouse gas emissions AND the deficit. Like a national renewable portfolio standard. Like combining smart regulation of greenhouse gases with broader sustainability efforts.
Perhaps even more important, Prof. Uhlmann said, is the president's willingness to actively campaign for the required changes.
"Building a sustainable future is going to depend on the president being willing to take his case directly to the American people," he said. "He needs to make climate change, energy policy, and environmental protection top priorities for his second term."
Prof. Uhlmann, the former top environmental prosecutor at the Justice Department, laid out his blueprint in a policy brief published this week by the American Constitution Society (ACS). "Toward A Sustainable Future: An Environmental Agenda for the Second Term of the Obama Administration," outlines major ways the Obama administration can make the United States a world leader in ameliorating climate change.
It's one of a series of briefs gathered by ACS under the heading "Toward a More Perfect Union," featuring short papers by top academics and practitioners around the country on topics such as immigration reform, criminal justice reform, judicial nominations, and campaign finance.
more ....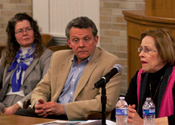 The Dark Money Threat to the Judicial System
By John Masson, Amicus editor
Dark money rises.
And no, we're not discussing an upcoming Batman sequel. We're talking about the amount of untraceable money being spent each cycle on elections, including—to the discomfiture of the experts—appellate judicial elections.
A panel sponsored by the League of Women Voters in a packed Hutchins Hall classroom Monday evening examined the growth of dark money in Michigan judicial elections and the consequences for citizens concerned about the influence of these shadowy contributions on the administration of justice, especially at the appellate level.
Watch a video of the discussion.
The panel was made up of retired Michigan Supreme Court Justice Marilyn Kelly, Rich Robinson of the Michigan Campaign Finance Network, and former Michigan Law Assistant Dean Maryann Sarosi, '87, who worked on the campaign of newly elected Michigan Supreme Court Justice Bridget McCormack. McCormack is a former associate dean of clinical affairs at Michigan Law who now is a lecturer on the faculty.
"From my perspective, if you're talking about politics and you're not talking about money, you're not talking about politics," Robinson said. Robinson played several ads from the last election cycle to illustrate his point.
"We've got a culture now that's really overwhelming accountability in all the campaigns, but it's particularly damaging in a judicial campaign," Robinson said. "It's certainly corrosive of public trust and confidence in the impartiality of the judiciary."
Sarosi, who cited her own campaign's naivete for its initial calculation that it would need to raise only $300,000 to $400,000 during the campaign, agreed. Her campaign job ended up morphing into a 16-hour-per-day fundraising marathon. And in the closing stages of the campaign, when the pressure ratcheted up with the appearance of anonymous ads attacking McCormack, Sarosi found herself raising something like $200,000 in 35 days—just as a matter of self-defense.
"That's crazy. It's crazy that we would be spending the last weeks going to such a base, such a low standard. It's crazy first of all, but it's also dispiriting," Sarosi said. "I feel like we can do better than that. That sounds Pollyanna-ish, but we can do better."
Kelly said the deficiencies in Michigan's campaign finance laws are many, but she expressed faith that the state's informed citizens have the power to change that. She took part in a year-long, bipartisan LWV study of judicial selection processes across the country that came up with a set of improvements Michigan's legislators could make to improve the process, and she stressed that a continuing bipartisan approach is crucial to achieving that goal.
The report is available at http://www.lwvmi.org/LWVMI.orgJSTF.html.
"What you need to know is who's behind the ads and how much they spend, but miraculously the Michigan campaign finance laws don't cover that," Kelly told the audience. "But I'm convinced that people like you can make it happen, if there's enough of you speaking out."
more ....