Alumni Profile

Robert E. Goodrich, '64
By Becky Freligh, Development and Alumni Relations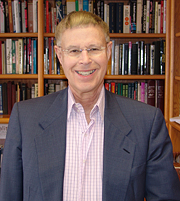 Like every dedicated moviegoer, Bob Goodrich, '64, had his Oscar picks ready for Sunday night's big event. His choice for Best Picture: "Inception—because it's phenomenally innovative and different."
Goodrich's embrace of the new in the fast-changing movie business is key to the success of Goodrich Quality Theaters Inc., the Grand Rapids, Michigan-based business of which he's been president since 1966.
Bigger screens, stadium seating, digital cinema, 3D—Goodrich enthusiastically brought them all to his theater chain, which today consists of 277 auditoriums in 30 buildings spread across four states, and remains one of the nation's few individually operated circuits. Cans of film had their allure, he acknowledges, but this is a new day.
"I'm really enamored of all the transitions we've gone through, and I think it's a dramatically better business today," he says.
The chain has its roots in one theater: the Savoy in downtown Grand Rapids, a former vaudeville house bought by Goodrich's father in 1930.Goodrich considered becoming a history professor or a lawyer at a regulatory agency, but when his father retired in 1966, Goodrich bought the Savoy and has never looked back.
He expanded his business through buying and leasing theaters, even acquiring 11 radio stations until communications-law changes allowing unlimited ownership made them inviting targets for bigger media companies. He still owns a radio station in Grand Rapids.
Amid competition from the likes of cable, on-demand viewing and Netflix, Goodrich's business stays competitive. He has priced tickets strategically, even in economic hard times. He stays focused on marketing and on asking questions that result in a better entertainment experience for his target audience: the most frequent moviegoers.
"Now, we're super-serving the people who are already connected to us," he says.
While he's excited about the future of the business (he predicts a wider range of theater content, including sports events), Goodrich says his favorite film remains A Man for All Seasons (1966), combining two of his great passions: history and the movies.