Progress and Pitfalls

Trade and investment relations with China at heart of MLaw, Wayne Law conference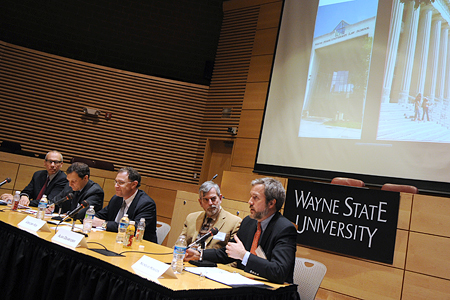 A conference co-organized by the U-M Law School earlier this month brought together a prominent contingent of experts on trade relations and cross-border investment between the United States and China who emphasized the opportunities and potential conflicts as China rises to a global trade and investment power.
During a keynote address, Ambassador Charlene Barshefsky, President Clinton's U.S. Trade Representative (USTR) and the person who negotiated China's accession to the World Trade Organization spoke of increased head-to-head competition between developed and developing countries generally, business conditions in China that often are disadvantageous for foreign companies, and a change in the global trade and capital markets from U.S. dominance to a marked increase in China's power and influence.
"The re-emergence of China … will be the biggest economic story of this century, in my opinion," she said. "It is both a cause for marvel and a cause for significant global concern."
The event, as conceived by U-M Law Professor Nicholas C. Howson and Wayne State University Law Professor Julia Qin, featured a public dialogue between the world's top academic experts on trade relations between the United States and the People's Republic of China, present and former government officials from Beijing and Washington who have been tasked with negotiating and implementing that important relationship, and the legal professionals who represent the two nations (and in some cases domestic petitioning groups) in actual disputes.
"A subsidiary aim was to focus the same high-powered analysis and discussion on other aspects of the economic relationship, including of course investment (going both ways) and broader systemic concerns like the economics of international trade and investment, climate change, the demands of the energy industry, the rise of the Chinese currency, and domestic judicial and enforcement institutions in both nations," Howson noted.
Howson said he and Qin were pleased to have gathered some of the key figures involved in the U.S.-China relationship, including: Ambassador Barshefsky; Madame Li Yongjie, the Chinese Ministry of Commerce official in charge of all WTO disputes and resulting litigation; Tim Stratford, a former director of the China Desk at the U.S. Trade Representative; and Professor Merit Janow, who recently stepped down from the WTO's Supreme Court equivalent, the Appellate Body.
In addition to Professor Howson, U-M Law School was also represented by Professor Edward Parson, who described the present state of U.S.-China climate change negotiations. Other U-M participants included Professor Mary Gallagher, Director of the U-M Center for Chinese Studies, Professor Zhao Minyuan of the Ross Business School, and Professor Alan Deardorff of the U-M Economics Department, who also serves as the Associate Dean of the Ford Public Policy School.