Alumni Partners at Kirkland & Ellis Come Through for Current Students

New café in Aikens Commons will bear firm's name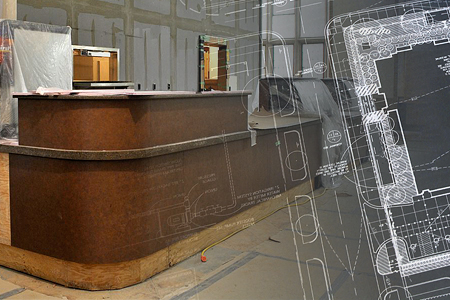 By Becky Freligh, Law School Development
A new Michigan Law café adjacent to the Law School's Robert B. Aikens Commons will be named the Kirkland & Ellis Café.
The designation recognizes a combined gift of $4 million made by all 26 Michigan Law alumni who are share partners at Kirkland & Ellis LLP; by the Kirkland & Ellis Foundation; and by William R. Jentes, '56, a preeminent former K&E litigator now retired from the firm and engaged in his own arbitration practice.
In making the gift, the firm seeks to honor its longstanding relationship with Michigan Law. Kirkland partners have long been generous to the Law School, establishing the Kirkland & Ellis Professorship in 1993 and providing longtime support for the Law School Fund. Since the firm's inception, Kirkland has hired hundreds of Michigan Law graduates, many becoming leaders at the firm. In addition, several K&E partners have served as adjunct faculty at the Law School.
"We take pride in our strong ties to Michigan Law, and we are delighted to be making a difference in this important project," says Jeffrey C. Hammes, chair of K&E's worldwide management executive committee. "It is wonderful to know that the Kirkland & Ellis Café will be a center of Law School life for years to come."
The gift originated several years ago when individual K&E partners began responding to the Law School's need for new facilities. Momentum toward the collective gift picked up speed last year when partner Sanford Perl, '90, was considering a personal gift honoring his 20-year reunion in the fall. As the event approached, Perl saw value not only in designating his reunion gift for the project, but in organizing his partners to make a significant collective gift to name a major space in the new building.
"As an alumnus, I understood the huge significance of the building project to Michigan Law's future," says Perl. "Seeing the site in person, with all its beauty and grandeur, confirmed that this would be the perfect opportunity to celebrate our relationship with the Law School in perpetuity."