"A glass of gin and a towel over your face"

Students mourn legendary prof A.W. Brian Simpson in ways he might have appreciated: raucously, with gin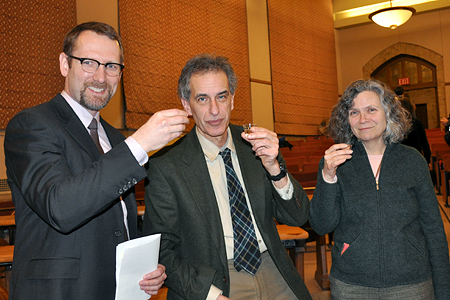 Professors Mark West, Bill Miller, and Becky Eisenberg spare themselves the wet towels at a student-organized tribute to the late Prof. A.W. Brian Simpson.
By Katie Vloet, Quadrangle editor
An event at the Law School honoring the late Professor A.W. Brian Simpson was not a time for sadness. Colleagues and students gathered on Feb. 10 for what Mark West described this way:
"This is a celebration. This is not quite a roast, though I'm sure Brian would be happy to laugh along with us," said West, the associate dean for academic affairs and the Nippon Life Professor of Law. "It is an Irish wake, a jazz funeral for a guy we loved and who gave us all so much happiness."
Students created a video montage in which they recalled some of their favorite moments with the beloved professor. Like the time he told them about a message one prisoner had sent to another on toilet paper, written in urine, in three parts: "I want you … now … for hugs." Or the time he gently assessed a student's incorrect answer in class by calling it "nearly right!" Or the story in which someone asked, loudly, "Have you got any bestiality?" (See video for further explanation of that last quote, and for more Simpson-isms.)
At the end of the night, they toasted Simpson and recalled another of his sayings: "Whenever you're faced with a difficult problem, the way to approach it is with a glass of gin and a wet towel over your face."
The Guardian (U.K.) obituary by Simpson colleague and Cook Global Law Prof. Christopher McCrudden