U-M Students Choose Law Prof for Singular Award

Herzog is first law prof to earn student-organized Golden Apple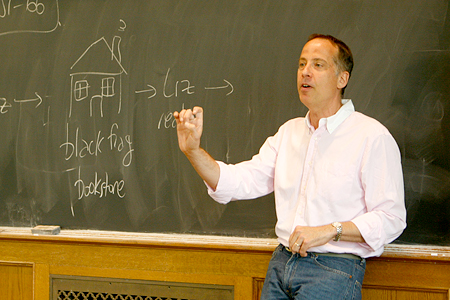 By John Masson, Amicus editor
Students at the University of Michigan have selected a law professor to receive the student body's coveted Golden Apple for the first time in the award's 20-year history.
Prof. Don Herzog, the Edson R. Sunderland Professor of Law, specializes in First Amendment law and in the teaching of political, moral, legal, and social theory. He came to the Law School from the Political Science Department, where he maintains a courtesy appointment.
The Golden Apple—the only U-M teaching award given by the students themselves—also provides its recipient a gift most professors only dream of: the right to give exactly the lecture they choose, as if it were their last.
Herzog said he was amazed when a student organizer called him and told him he had been selected.
"It's overwhelming," Herzog said. "It's incredibly sweet. I don't deserve it."
Herzog's "Ideal Last Lecture" is scheduled for 7:30 p.m. March 14 at Rackham Auditorium. Although he admits to being a little nonplussed about delivering a formal lecture when for years his classes have been more of a back-and-forth between him and his students, he's arrived at the perfect topic, based on his new book about the surprising truth of household politics in early modern England.
"Let's just say that it was better to be a man than a woman then, for sure, but not because women were mindlessly deferential and 'knew their place.' Not at all," Herzog said. "So the thought that feminism is this late development is nuts, completely nuts."
Around the Law School, faculty members weren't all that surprised to hear that Herzog had captured the coveted award—and not at all surprised that he hadn't seemed to tell anyone about it.
"He's just the real thing, all the way down the line," said Prof. Bill Miller, whose forays into the darker side of human emotion—book titles like Faking It and Blood Feuds come immediately to mind—make him something of an expert in the field. "People here hold him somewhat in awe."
If there is one thing Herzog is not, Miller added, it's an easy A.
"He's very informal with students, but he's also very demanding, and he's a hard grader. He doesn't pander to them," Miller said. "He does, ostensibly, political theory and things like that, but … he actually dirties his hands in the real historical material. He feels it's a requirement to actually know something about how people operate, and to read what they've written."
Faculty turnout at the "Ideal Last Lecture," then, could reasonably be expected to be high.
"Don is a fabulous teacher, and he's also a wonderful scholar," said Law School Dean Evan Caminker, who will provide an introduction at the lecture, along with political science Prof. Pam Brandwein. "This is indeed a well-deserved honor."