Prof. John Reed Honored with Barristers Gift
By Becky Freligh, Law School staff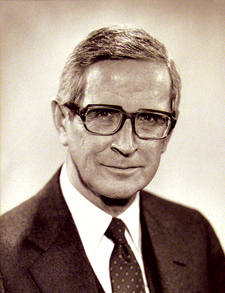 The International Society of Barristers has made a gift to the Law School in honor of John Reed, the Thomas M. Cooley Professor of Law Emeritus and the Barristers Society's retiring administrator and editor.
The commitment will support student participation in litigation-based competitions and includes a $100,000 gift creating a fund for endowment and an additional $20,000 in expendable funds that can be used immediately.
Many individual members of the Barristers contributed to the gift, including several Michigan Law alumni, such as the group's current president, William F. (Rick) Martson, '72, a litigator with Tonkon Torp LLP in Portland, Oregon.
"John is universally admired by our membership," Martson said. "Making a gift to the institution he admires and which has meant so much to John is our way of publicly honoring our friend, who is also one of the great teachers of our time."
The Barristers Society comprises about 650 top trial lawyers from both sides of the courtroom, chosen for membership by their peers. Reed is also an Academic Fellow of the society.
"The gift will enhance Michigan's excellent trial advocacy program, in keeping with one of the Barristers' stated purposes: 'to encourage, by example and otherwise, the entry of younger lawyers into the specialty of advocacy'," Reed said. "Both personally and on behalf of the Law School, I am deeply grateful to the generous trial lawyer friends who have provided this valuable endowment."
The Barristers' gift is the third endowment gift made to the Law School in Reed's honor. In 1997, the class of 1952 established the John Reed Scholarship, and in 2006, an anonymous donor created a fund in Reed's name to support the Debt Management Program.
"Professor Reed's teaching has inspired the careers of many distinguished litigators, as well as other Michigan alumni who have received the benefit of his excellent training in advocacy," Dean Evan Caminker said. "It is most appropriate that the Barristers' gift will support the training of the next generation of lawyers in advocacy skills."
Reed joined the Michigan faculty in 1949; his former students include Dean Emeritus Ted St. Antoine, '54, and Professor J.J. White, '62. His primary teaching interest has been evidence, and he has also taught civil procedure and tax classes. He formally retired from the Michigan faculty in 1987, but has been called out of retirement to teach evidence, most recently in 2004. Reed has also served as dean of the law schools at the University of Colorado and Wayne State University.