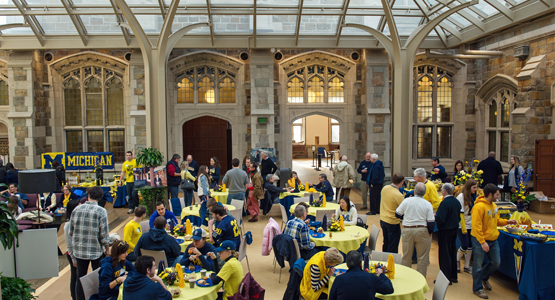 Calling All Victors

By Amy Spooner
The world needs victors. Be a victor for Michigan Law.
The theme of the University of Michigan's iconic fight song is now the rallying point for the Victors for Michigan fundraising campaign, which kicked off Nov. 8-9. The campaign, which seeks to raise $4 billion for the University, is the largest fundraising endeavor in U-M's history and the largest in history for a public institution. The Law School's campaign goal is $200 million.
Alumni enjoyed a series of events as part of the kick-off weekend, including an outdoor community festival on Friday evening and a Law School tailgate in the Robert B. Aikens Commons prior to Saturday's football game. In addition, supporters from across the University gathered in Hill Auditorium on Friday night to hear the official announcement of the campaign goal as well as stories from students about why giving to Michigan matters.
Representing the Law School as a speaker was Lexi Bond. The 3L worked with the Michigan Innocence Clinic to free Victor Caminata, who was wrongfully convicted of arson, and she spoke of the importance of such experiential learning opportunities. "We got to feel what it was like to free an innocent man. We got to be part of an event that drove home why we're going into this field," Bond told the standing-room-only crowd. "When I heard that this campaign was called Victors for Michigan, I knew we had to tell this story, the story of our very own Victor (literally). Because of the Michigan Innocence Clinic, we got to be a part of such a rewarding experience and Victor got to go home to his family a free man."
The Law School's most recent campaign, which was called "Building On" and was part of the University's Michigan Difference campaign, raised $135 million. The focus of the campaign was facilities support—most notably, to build South Hall. The campaign ended in 2008.
With the construction of South Hall, the renovations to the Lawyers Club, and the creation of the Robert B. Aikens Commons, now is the time to focus on the people and experiences that bring the Law Quad to life, said Dean Mark West. Within the $200 million overall goal, the Law School's Victors for Michigan campaign seeks to raise $70 million for student support and $40 million for programs like the clinics and the Legal Practice Program, as well as funds for faculty support and the Law School Fund, which is the School's annual giving program.
"Michigan has been and always will be one of the world's leading institutions of legal education," West said. "But as the legal profession changes, training students to think like a lawyer and to be a lawyer requires a combination of traditional and new approaches. Half a century ago, the Law School received 40 percent of its budget from the State of Michigan; today that figure is around two percent. Our ability to make Michigan Law accessible to students from diverse socioeconomic backgrounds depends on private support."
West also noted that for Michigan Law to remain a top school in a competitive market for legal education, it must continue to provide and improve opportunities that enrich students' education and produce the practice-ready, holistic-thinking lawyers for which Michigan Law is known. In addition, the School must retain and recruit the best faculty from a broad range of backgrounds to train our students well, and to engage in research that aids their teaching and deepens our understanding of the law. Campaign gifts will be critical to achieving these goals.
The Law School's campaign steering committee is being chaired by John Nannes, '73. Nannes is a partner in the Washington, D.C., office of Skadden, Arps. He also conceived and generously funded one of the Law School's most successful development initiatives, the 3L Challenge, which encourages recent-grad giving. Nannes recently made an additional substantial commitment to the program, and during remarks on Saturday he encouraged all alumni to join him in pledging their support to the Law School. "The Victors for Michigan campaign is critical to the Law School's future, and it will take all of us to make it successful," he said.
"No matter how many years have passed since graduation, alumni can recall professors and classmates who shaped their lives," West told the crowd. "Our challenge today is to continue to make those interactions—and all the opportunities that Michigan Law provides—accessible to past, present, and future students."
Learn more about the Law School's Victors for Michigan campaign and read the School's campaign case statement at www.law.umich.edu/campaign.
more ....

Jeremy Bloom, '01, Named New Assistant Dean of Career Planning

By Lori Atherton
Jeremy Bloom—a 2001 graduate whose legal experiences include interning for a U.S. district judge, working as an associate at Skadden, starting his own practice, and engaging in high-level financial regulatory work—has been named the new assistant dean for career planning at the University of Michigan Law School.
He joins Michigan Law on Dec. 4, and replaces longtime dean Susan Guindi, '90, who served in the role for 18 years before joining U-M's Ford School of Public Policy in August as director of student and academic services.
"I've always loved the Law School, and I had such a wonderful experience while I was there," said Bloom, who also received a BA in political science from U-M. "This opportunity made me realize that my affinity for the School and my experience of moving through different legal settings put me in a great position to share the joy I've gotten from practicing law with students and other members of the Law School community. I am passionate about working with law students—but I wouldn't want to do this job anywhere else."
Alyson Robbins, Michigan Law's public interest director, said Bloom is a great fit for the Office of Career Planning, and cited his warmth, knowledge of the legal market, and student-centric focus as among his attributes.
"Jeremy is ready to help the Office of Career Planning continue to grow and support students and alums in finding the right job opportunities and career paths in this market," she said. "He offers the right balance of wanting to serve students and understanding the reality of the job market."
"We are tremendously excited that Jeremy is joining us," added Dean Mark West. "He has a wealth of experience that will help him resonate immediately with the people who make Michigan Law such a special place."
Since graduating from Michigan Law, Bloom has pursued a career in corporate law. Except for two years in Florida, he has practiced in New York City, first as an associate at Skadden, Arps, Slate, Meagher & Flom LLP from 2002 to 2005, then as senior counsel at FINRA (the Financial Industry Regulating Authority) Enforcement Department, where he investigated and litigated matters involving securities law violations.
Bloom left FINRA in 2010 to open a boutique law practice, Bloom & Silver PA, in Coral Springs, Florida, which focused on general commercial litigation, regulatory enforcement, and securities arbitration. He left the practice in 2012 and returned to New York to serve as the senior compliance manager and counsel for Tower Research Capital LLC, a financial services firm specializing in trading and investment strategies. In each of his roles, he was involved in the recruiting and training of law students and practicing attorneys.
"Jeremy has had a fantastic range of jobs, and he has a great Michigan Law network—not to mention the close ties he's maintained with Skadden—which will be a tremendous benefit to students and alumni," said Sarah Zearfoss, '92, senior assistant dean for admissions, financial aid, and career planning. "This is a challenging time in legal education, and Jeremy understands the current world of law and knows what employers are seeking. He's eager to bring fresh energy to his role as assistant dean."
When Bloom was a law student, Dean Zearfoss, who was serving as U-M's judicial clerkship adviser, counseled and helped him secure a summer internship with the Hon. Avern Cohn, '49, U.S. District Court Judge for the Eastern District of Michigan. Bloom and Zearfoss will work closely to guide the Law School's career planning initiatives. "Sarah helped me to broaden my career horizons and to think about all of the things I could do with a law degree," Bloom said. "I can't think of anyone I would want to work with more."
During a recent phone interview, Bloom answered questions about his new role and how the Office of Career Planning can help students explore career opportunities.
What are you excited about in your new role? I'm excited about helping the career planning office continue to build on its strengths. Career planning is an integral part of the student experience, and we want to be able to match what students are interested in, and what their background and experience lend them to, with the amazing opportunities that are out there. The goal is not to pigeonhole students into a position, but to help find authentic options that speak to their aptitudes, interests, and experiences.
How closely will you be working with students? I plan to have a close working relationship with students. One of the things I'm excited about is being more intimately involved in the student experience—including working directly with student groups, working with alumni and development, and building on existing programs, such as the student-alumni mentorship program. I'll be holding office hours to meet with students individually and also will have a presence at Law School events.
How do think your career experiences will benefit students? The fact that I've had a variety of experiences means that there should be something specific from my background that is very translatable to a lot of students, even though most would not be doing the exact type of work that I did. Hopefully there is something from any one of my jobs that will allow me to make a connection with students and provide tailored advice. I have seen the different settings in which you can practice law, and more and more, looking for creative career opportunities for law students is going to be important as the number of jobs at the country's largest law firms decreases. My experiences, I think, will inspire me to be creative and innovative in thinking about the types of jobs that law students are going to want and that are going to be available in the future.
You started your own law firm, but for various reasons, left the partnership. What lessons did you learn from that experience that would be valuable for law students? You can never completely know the future, and you have to think about a lot of different aspects of your life. For me, it was that I had just started a family (Bloom and his husband, Chris, have 3-year-old twins, a boy and a girl) and was thinking about where I wanted to live to raise my family. The situation I experienced is beneficial for me to draw upon in talking to students, to the extent that it goes back to making authentic choices. Making authentic choices doesn't always mean making easy choices. It means taking a calculated risk to pursue something that is really meaningful to you and being willing, once you take that risk, to honestly evaluate the situation and make changes if things aren't working the way you want them to.
What changes have you seen in the legal market since graduating from law school? The number of associates that are being hired by large law firms has decreased, so Big Law jobs are not as numerous, stable, or predictable as they have been in the past. Even as you move up the ranks from associate to partner, what has traditionally been a very stable, long-term career situation increasingly is no longer the case. In addition, law students are more sophisticated than in the past. There is more information that's readily available to students, so when they come to law school, they are aware of the shifts in the legal landscape and are more sophisticated in their approach to looking for legal employment. They also bring more work experience with them to law school. There had been a time when the expectations of students didn't match the reality, because the reality at large law firms had shifted very quickly, but four years later, the changes at the larger law firms and the changes in the student body itself are coming into alignment. The consequence for the Office of Career Planning is that we need to be as innovative, creative, and proactive as we can be in connecting with students, understanding what's important to them, and giving them expert advice. We also need to work closely with legal employers, including nontraditional ones, to find excellent opportunities for our students.
What skills and qualities are employers seeking? Having an understanding of what it means to interact with a client, to do client intake and interview a client, to listen to what a client is looking for, and to have given some real-world advice and actually put into practice some of the theories learned in the classroom. These skills are incredibly helpful for any kind of legal employer, but particularly large law firms. These skills can be gained through clinical experiences, and Michigan is leading the way in the number and quality of clinical opportunities it offers students.
How would you summarize your Michigan Law experience? It was intellectually stimulating and an incredibly supportive, collegial environment to be in, and not at all what one expects when thinking about the stereotypical law school experience. I made really close friends at Michigan, with whom I remain close today.
more ....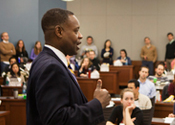 Orr, '83, Discusses Detroit Bankruptcy at Michigan Law School Event
Detroit Emergency Manager Also Emphasizes Opportunity for the City's Renaissance

By Katie Vloet
Detroit is a once-great city that can embark on a renaissance—but only if it is allowed to restructure under Chapter 9 bankruptcy, Emergency Manager Kevyn Orr, '83, told Michigan Law students.
A frequent target of criticism by creditors and labor unions, Orr also signaled that his congenial approach to dealing with such groups may be coming to an end.
"We haven't attacked because we're trying to do this in an upstanding, decent, and forthright way," he told the standing-room-only group of students and staff members on Nov. 7. "But this kumbaya moment is sort of coming to a close. ...I've bent over backwards, and we're not getting anything in return."
Orr's talk came the same week as two momentous events in Detroit: the election of Mike Duggan—coincidentally, Orr's 1983 Michigan Law classmate—as mayor of the city; and the end of Orr's testimony in a trial that will determine whether Detroit is eligible for Chapter 9 bankruptcy protection.
Orr's frank speech and question-and-answer session explained the decades of issues that led to the city's financial crisis, and in particular the past 10 years or so of massive population declines and money mismanagement.
"Between 2005 and 2012," he said, "the city borrowed $2.25 billion on a $1 billion revenue stream," citing one of the more striking elements of poor financial planning. Due to the city's aggregate debt, he said, a city with $200 million every year would need some 90 years to pay off its debt of $18 billion. "The city would die. There is no conceivable way this debt was ever going to be paid off," he said.
Orr was appointed by Gov. Rick Snyder, '82, and was given the mission of restructuring the city within his 18-month appointment. In the years before Orr was appointed, though, negotiations already had begun with the creditors and labor groups, he said.
That's why, he said, he gave the groups 30 days to negotiate with his office—a point of contention for labor organizations arguing before a bankruptcy judge that Orr's office has not met the requirement of negotiating in good faith.
"I bent over backwards to try to reach agreement," he said. "We have been attacked every which way from Sunday, and I've never returned fire."
What he has been reluctant to bring up until now, he said, is the way the pension funds have been managed—the same funds whose leaders now are attacking his efforts to take the city into bankruptcy protection. For instance: The General Retirement System (GRS) pension fund (the one for city employees and retirees outside of the police and fire departments) has 30 percent of its investments in private equity, real estate, or areas otherwise not receiving any professional advice. "Of that 30 percent of investments that they've made, they've made investments in defunct hotels, they've subordinated their interest to 22 tranches of debt and various other real estate investments—hell, we own part of a private jet in the GRS pension fund," Orr said. And of the $1.4 billion that the city borrowed between 2005 and 2006 to fund pension payments, he said, "we can't find $700 million of it. Can't find it."
Indeed, the GRS funds have been the subject of increased scrutiny before and during the bankruptcy trial. The Detroit Free Press reported last month that the GRS board acknowledged in an affidavit that it gave out $756.2 million in excess earnings to active employees from 1985 through 2007. It gave $195 million to retirees during that same time period and sent $445.3 million back to the city. The newspaper also reported that the GRS board had distributed nearly $1 billion in controversial "13th checks" (one more than the 12 that employees and retirees are supposed to receive each year) to employees and retirees instead of reinvesting the excess earnings.
Even while discussing his frustrations, Orr remained unruffled throughout his talk at Michigan Law—a characteristic that even his toughest critics have acknowledged. He also indicated that he did not regret taking the difficult job of emergency manager, though he is acutely aware that "I will be the greatest flameout in contemporary history if I muff it."
It's a long way from the self-described young socialist who first attended the University of Michigan as an undergraduate in the late 1970s, intent on fighting the man ("now I am the man," he laughed). Following law school, Orr joined Arky, Freed, Stearns, Watson and Greer in Miami, where he rose from litigator to shareholder. In 1991, he joined the litigation department of the Federal Deposit Insurance Corporation and then the Resolution Trust Corporation, where he became the assistant general counsel for complex litigation and bankruptcy. His duties included serving as the agency's chief lawyer responsible for the Whitewater investigation. He worked for the Department of Justice as deputy director of the Executive Office for United States Trustees, and later was the director of the United States Trustees Program.
In 2001, Orr joined Jones Day and was the Firmwide Partner for Hiring and Diversity. His responsibilities also included counseling and representation of Chrysler LLC with regard to its bankruptcy, in addition to many other high-dollar and high-profile cases. He recently had been chosen to open the firm's new Miami office and to receive what he described as a "significant percentage" on a winning case; he left both the opportunity and the money behind when he accepted the emergency manager position in March, with hopes of spurring a revitalization of the city, which he firmly believes is possible.
"When I was first approached with the [emergency manager] job, my response was not only 'no,' it was 'hell no.'" But he reconsidered, ultimately deciding that it was an opportunity to give back—and he encouraged the students in the room to do the same.
"Many of your peers outside of this institution won't have the opportunities you'll have, so, in a sense, you have an obligation to give back. That's essentially what drove me back into public service," he said. "If people with your education and your opportunities don't weigh in at critical times, then what are we as a people?"
The event was sponsored by the student group JDs in the D and the Office of Alumni Relations, and supported by the Office of Student Affairs.
more ....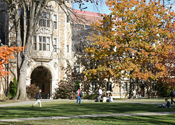 EIW Moves to Lawyers Club in 2014

By Lori Atherton
After 12 years of being hosted at the Ann Arbor Holiday Inn, Early Interview Week (EIW)—a four-day event during which employers interview rising 2Ls and 3Ls—will be moving to the Lawyers Club in August 2014. The last time law firm employers actually recruited on site at the Law School was in 2001; back then it was known as "OCI" (on-campus interviewing).
During OCI, a steady stream of employers came in daily during September and October, with the result of much disruption to class attendance. Consolidating the process from eight weeks during the semester down to four days prior to the start of class meant efficiencies—but necessitated a large venue for accommodating some 500 employers conducting more than 5,000 interviews. Until now, only the Holiday Inn on Plymouth Road, more than four miles away from the Law School, had the capacity, so OCI became off-campus EIW. But thanks to the recently completed extensive renovation, the Lawyers Club boasts new amenities—including air conditioning, high-speed wireless Internet access, and corridor lounges—that make it the perfect home for this event, said Kim LeClair, recruitment manager for the Office of Career Planning.
"We expect the change in venue will increase excitement about EIW, especially among alumni, who make up almost 50 percent of interviewers," she said. "We've heard lots of feedback over the years about how alumni miss seeing their old haunts, and I think they'll be pleased to have the chance to see professors and be immersed in the Quad."
One alumnus who is looking forward to returning to the Law School is Ethan Dettmer, '97, hiring partner for the San Francisco office of Gibson, Dunn & Crutcher LLP. "As an alumnus and as an enthusiastic recruiter of Michigan Law School students, I was thrilled to hear that on-campus interviewing at Michigan is actually going to be 'on campus' once again," he said. "I am looking forward to spending a few days at Michigan Law next August—seeing the beautifully renovated campus, visiting with friends on the peerless faculty and staff, and meeting the next generation of great lawyers from Michigan Law School."
The location change for EIW—set for Aug. 7-8 and Aug. 11-12, 2014—also will be beneficial for students, LeClair noted. While most students are unfamiliar with the Holiday Inn, the familiar surroundings of the Law Quadrangle should result in their feeling more at ease and less stressed during the interview process.
Employer registration for the new and improved on-campus EIW begins on Monday, March 10, 2014, and is on a first-come, first-served basis. Early registration is encouraged.
For more information, contact LeClair at kleclair@umich.edu.
more ....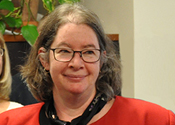 Michigan Law's Assistant Dean for Financial Aid Retires

By Lori Atherton
Katherine Gottschalk, Michigan Law's longtime assistant dean for financial aid, retired from the Law School after nearly 30 years of service. Her last day was Nov. 18.
Dean Gottschalk's contributions to the Law School were recognized at an afternoon reception on her last day, during which current and former colleagues gathered to express their appreciation and well wishes.
Among those offering remarks was David Baum, '89, assistant dean for student affairs, who shared fun facts about Dean Gottschalk—she has a twin and was born and raised in Mexico—along with the attributes that have made her such a beloved figure at the Law School.
"Katherine is universally loved by students at Michigan Law," he said, citing her positive and upbeat manner and willingness to help students understand the complexities of the financial aid process. "Whenever help was needed with a financial aid problem and I sent students her way, I knew they were going to get what they needed."
Dean Mark West, in highlighting Dean Gottschalk's commitment to the Law School, read a portion of an email from an admitted student: "Dean Gottschalk is quite possibly the best financial aid officer on the planet," he read. "She was kind, personal, and went out of her way to do extra research on outside ways to reduce the cost of attendance at Michigan. Dean Gottschalk exemplified why Michigan truly is a special school."
Sarah Zearfoss, '92, senior assistant dean for admissions, financial aid, and career planning, has worked with Dean Gottschalk for the past 12 years and received financial aid counseling from her when she was a student at Michigan Law.
"Every year I hear from incoming students that when they were in distress or having anxiety about the prospect of financing their legal education, Katherine was a patient and understanding voice of compassion, who helped them manage and navigate the many competing considerations," she said. "And she combines these skills with a truly formidable expertise in the thorny ins and outs of federal financial regulations. The combination of such different strengths is rare indeed, and the Law School is lucky indeed to have benefited from her dedication for so long."
A graduate of Wellesley College, Dean Gottschalk began her career at Michigan Law in November 1984 as an academic services clerk. She became director of financial aid in 1989 and was named assistant dean in 2001. Lindsey Stetson, '05, assistant director of admissions, will become acting director of financial aid when she returns from maternity leave in January.
An avid knitter, Dean Gottschalk said she is looking forward to spending more time with her family during retirement: husband Paul; children Arianna, Ian, and Elizabeth; and five-month-old granddaughter, Nova. She thanked those in attendance for their support and friendship, especially her immediate staff—Vicki Abbott and Kathy Johnson—whom she called "the greatest staff in the history of time."
"It's been an incredible ride here," she said. "Thanks for everything over the last 30 years."
more ....