MLaw Prof and '93 LL.M. grad Appointed to Germany's Highest Court

Susanne Baer to continue relationship with Law School during her 12-year term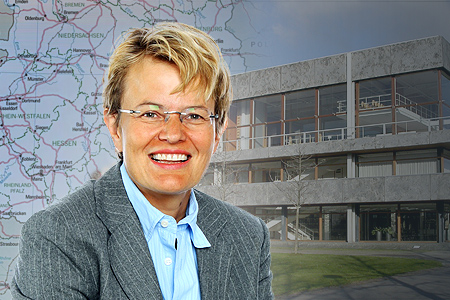 By John Masson, Amicus editor
Michigan Law's Prof. Susanne Baer, one of the Law School's five William W. Cook Global Law Professors and a Michigan alumna, has been elected to the German Federal Constitutional Court.
Prof. Baer, who began teaching at Michigan a year ago, also is a professor of public law and gender studies and dean of academic affairs at the Law Faculty at Humboldt University in Berlin. Her research areas include socio-cultural legal studies, gender studies, law against discrimination, and comparative constitutional law. She earned an LL.M. at Michigan Law in 1993.
She is the second 1993 Michigan Law LL.M. alumna to land a seat on her native country's highest court in recent months. Maria Lourdes Aranal Sereno was named an associate justice of the Supreme Court of the Philippines in August.
In addition to Baer, two of the German court's current members also have Michigan ties: Andreas Paulus taught here as a visiting professor, and Johannes Masing was a visiting scholar.
Baer's new 12-year, non-renewable term on Germany's top court ensures a lively work pace. The court, which is divided into two separate "senates" of eight judges each, handles several thousand cases each year, several times the volume of the U.S. Supreme Court. Anyone who believes his or her rights have been violated under Germany's Basic Law, or constitution, is entitled to bring a complaint that could end up being heard by the Constitutional Court. German states and the federal government can ask the court to review laws and proposed laws for constitutionality, as well.
Despite her selection by the German legislature for a term on the court, Baer is expected to continue her relationship with Michigan Law.
"We're pleased and proud to see Professor Baer elevated to a position of such eminence in her country's judiciary," said Michigan Law Dean Evan Caminker. "And we're confident that the people of Germany will benefit, as our students have benefitted,
from her wisdom and keen insight."