Save the Last Class For Me

Faculty gather to give trust and estate guru Lawrence Waggoner a warm retirement send-off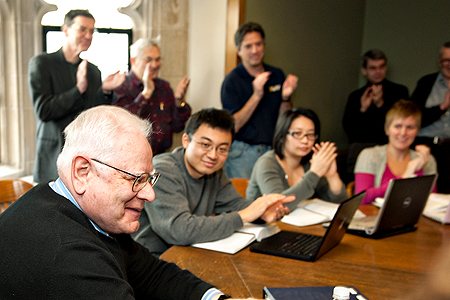 By John Masson, Amicus editor
As the final moments of his Trusts and Estates class ticked away on Dec. 6, retiring Prof. Lawrence Waggoner found himself on the receiving end of a longstanding Michigan Law tradition he'd undoubtedly participated in many times himself.
Outside his classroom, respectful colleagues were clandestinely gathering before entering, lining the walls, and applauding—"clapping him out," as is the Michigan Law custom, of his last class.
Space was tight in the fourth floor conference room where the estates class was held, but as many faculty members as could uncomfortably fit crammed themselves into the room anyway. Applauding professors were quickly joined by students in an enthusiastic salute for Waggoner and his three-and-a-half decades of service on the Michigan faculty.
The gesture wasn't lost on Waggoner.
"I want to thank everyone who came over at the end of my last class yesterday," he said later. "I'm deeply grateful. It was a great send off. I have to say also that the students' eyes were as big as saucers, seeing so many of their professors crowding into that small room and standing in the hall outside."
Waggoner graduated from Michigan Law himself in 1963, served as a captain in the U.S. Army from 1966-1968, earned a doctorate from Oxford as a Fulbright Scholar, then came back to the Law School for good in 1974 after a stint at the University of Virginia.
The Lewis M. Simes Professor of Law, Waggoner became perhaps America's most recognizable figure in trust and estate law during his time at Michigan. He was the director of research and the chief reporter for the Joint Editorial Board for Uniform Trust and Estate Acts, as well as the principal drafter of the 1990s revisions to the Uniform Probate Code. More recently he's weighed in on revisions touching on how children of assisted reproduction are affected by the code. And just this month he was widely quoted by financial advisor Jane Bryant Quinn in a CBS Moneywatch report on the dangers of perpetual trusts.
"Larry has been a wonderful teacher and a committed and creative torch-bearer for law reform for his entire career," Law School Dean Evan Caminker said. "We wish him the best in retirement, and hope he knows how much he'll be missed in the classroom."