In Memoriam:

Dores McCree, beloved Law School administrator, dies at age 90
By John Masson, Amicus editor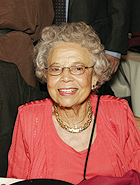 The Law School community was saddened last week by the loss of former Law School Administrator Dores McCree, whose family roots at Michigan Law ran deep and who was familiar to generations of students who attended prior to her retirement in 2001.
"The term 'grand dame' must have been designed for her," said Sarah Zearfoss, '92, one of Dores McCree's neighbors and Michigan's Assistant Dean for Admissions and Special Counsel for Professional Strategies. "She had an incredible combination of grace and dignity. But then she also had a simply hilarious sense of humor."
Others described a deeply caring but definitely no-nonsense figure. "Mrs. McCree," as she was known to all, was always ready with sage advice but also expected people to give their very best.
"Dores is one of the reasons that Michigan Law School always felt like family," wrote Roopal Shah, '95, in an online memorial. "She was the quintessential grandmother to us all. She would find me at a dean's reception or in Hutchins Hall and just say something nice. I often drew upon Dores' confidence in me on occasions when I lost it in myself! And I saw her share the same warmth and love with so many."
Dores McCree was married to Wade H. McCree, Jr., a former Wayne County, U.S. District Court and appeals court judge who also served as the U.S Solicitor General. Wade McCree came to Michigan in 1981 after he left office and served as the Lewis M. Simes Professor of Law until his death in 1987. The McCrees' daughter, 1973 Michigan Law grad Kathleen McCree Lewis, was a prominent  Detroit attorney until her death in 2007.
"The Law School community is profoundly saddened by the loss of this beloved and dedicated member of the Michigan Law family," Dean Evan Caminker said. "Her amicable demeanor, her grace and her compassion marked her work, in whatever capacity she served. She'll be forever missed."
A memorial service was held in Detroit Dec. 16.   Look for much more in the April edition of Law Quadrangle.
Visit the online memorial book.