Barr Associations

After a grueling stint in a high-profile role as Assistant Treasury Secretary for Financial Institutions, Prof. Michael Barr is coming home to Michigan Law
By John Masson, Amicus editor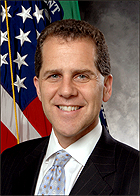 He's traded all-night meetings in a Washington office he jokes was the size of a bowling alley for the leaded-glass charm of book-lined, ninth floor digs in the Legal Research Building. After two crisis-driven years as one of President Barack Obama's point men on financial reform, Assistant Treasury Secretary Michael Barr is about to become, once again, Michigan Law's Professor Michael Barr.
Amicus' one-man editorial board sat down with Barr in his office recently to chat about his team's accomplishments in the capital and what he hopes to accomplish in Ann Arbor starting this coming term, when he'll teach a couple of classes on – what else – financial reform and regulation.
Q: You've served in Washington before, in the Clinton Administration. What drew you to Washington this time?
A: I was very excited about going back into public service. When I started at Treasury two years ago the country was heading off a cliff. The financial crisis had caused huge problems and wiped out household wealth on a massive scale. Having taught financial regulation for eight years here at Michigan, I knew the basic system was broken. I wanted to fix it, and that's what we did.
Q: What particular aspects of the system were especially troublesome, and how were those problems addressed?
A: There were financial reform, housing, and consumer protection issues, and we got to work on all of that. We helped take the lead on the Dodd-Frank Wall Street Reform and Consumer Protection Act, which includes strong consumer protections, derivatives reform, better regulation of large financial firms, and improved means to wind down failing firms. It also created the Consumer Financial Protection Bureau. We were involved in the passage of credit card reforms and the small business bill, which gave small companies access to loans. … It was just an unbelievable depth and breadth of reform.
Q. And what brought you back to Ann Arbor?
A: Two years felt like a good length of time. I was ready to come back and re-engage with teaching and research and writing. Also, I had been commuting to Washington for the work week and then home to Ann Arbor for weekends for two years. It's great to get home to my family.
Q. What do you expect will be your research focus in the near term?
A: I'll be looking at regulatory reform and systemic risk. I'd like to take a look at setting up an interdisciplinary center on finance here at the Law School, a cooperative effort between the Law School, the Ross School of Business, and the Ford School of Public Policy. And of course I'm teaching a seminar on financial reform.
Q. How did your team manage to get so much accomplished in such a notoriously gridlocked place?
A: We were at a point where we could get so much work done. The system was so broken that, even if you disagreed about what to do, there was no argument that something had to be done. And the President and Secretary Geithner were both just incredibly tenacious.
Q. Speaking of President Obama … I'd be remiss if I didn't ask what he's really like.
A: He's cool. I mean, he's a really cool person, in the sense that he's completely unflappable. He's got a really funny sense of humor. He's also incredibly gracious and kind.
Q. What was your biggest disappointment in Washington?
A. I would have liked to do more to help families that were losing their homes.
Q. What was your proudest moment in Washington?
A: Passage of the Dodd-Frank Wall Street reforms. That's a pretty fundamental transformation of financial regulation.