Senior Sendoff

Humor, high purpose mark December graduation ceremony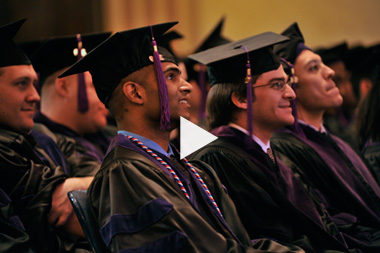 Proud Michigan Law graduates pick up their J.D. and S.J.D. degrees Friday during December's Senior Day cermonies at the Michigan Theater. Afterwards the new graduates and their friends and families strolled back down State Street for a reception in the Lawyers Club Lounge. Watch a video ...
---
They're Jurists, and His Peers
Law profs moot Rich Friedman for his return trip
to Supreme Court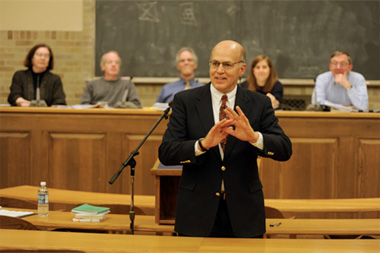 By Katie Vloet, Law Quad Editor
The highest court in the land makes an appearance at the U-M Law School, and playing the part of Chief Justice John G. Roberts, Jr., second from the right, is none other than Professor Eve Brensike Primus.
Professor Richard Friedman's colleagues mooted him recently to prepare him for arguments in an upcoming Supreme Court case. Professors Christina B. Whitman, David Moran, Samuel R. Gross, Brensike Primus, and Douglas Laycock, as well as Joan Larsen, counsel to the associate dean for student and graduate activities, acted as members of the High Court. More ...
---
Ludwig van Lunchbreak
New "Bach's Lunch" music series features
concerts by students and faculty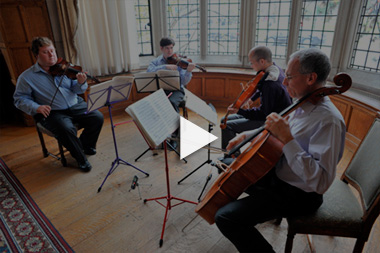 By John Masson, Amicus editor
Michigan Law's new Bach's Lunch music series may be named after a guy called Johann Sebastian, but it was a guy called Ludwig who drew scores for a recent lunch-hour concert featuring a string quartet made up of three law students and a professor.
The Lawyers Club performance of Beethoven's String Quartet No. 7 in F Major featured students Ben Bodnar and Nathan Simington on violin, Richard Kim on viola, and Professor Ted Parson on cello. More ...
---
Weight of the World
Heroic figures bear burden of Quad architecture;
now they cheer on new construction, too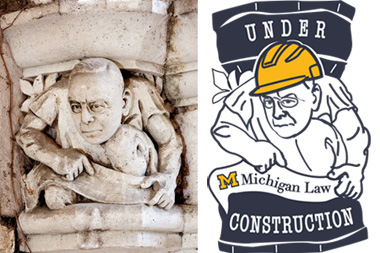 By John Masson, Amicus editor
He bears a striking resemblance to Harry Burns Hutchins, this cramped, carved little man who's visible in one of the archways leading into the Law Quad.
And it's no coincidence. Hutchins and several other Law School and U-M luminaries were immortalized in stone in various key locations when the Quad was built. Passersby who look up while passing through the Quad's stone archways, for example, are sure to spot the tiny granite men who seem to be bearing the weight of the buildings (as well as the occasional tennis racket or football). More ...