Weight of the World
Heroic figures bear burden of Quad architecture;
now they cheer on new construction, too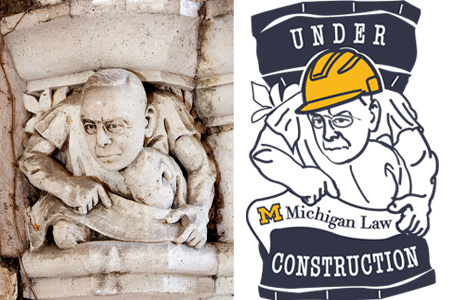 John Masson, Amicus Editor
He bears a striking resemblance to Harry Burns Hutchins, this cramped, carved little man who's visible in one of the archways leading into the Law Quad.
And it's no coincidence. Hutchins and several other Law School and U-M luminaries were immortalized in stone in various key locations when the Quad was built. Passersby who look up while passing through the Quad's stone archways, for example, are sure to spot the tiny granite men who seem to be bearing the weight of the buildings (as well as the occasional tennis racket or football).
Because the stone characters are such beloved Law School icons, we've chosen the Harry Hutchins figure as the logo and the standard-bearer (literally) for information updates about the School's ongoing construction project. He'll appear in his stylish maize hard hat in ongoing communications about the progress of the work. More information is always available on the construction updates page and the building project website.
While they are referred to casually as "gargoyles," the stone Harry Hutchins and the other figures—including fellow former U-M presidents Angell, Burton, Tappan, Haven, and Frieze—are properly known as "corbels," or, as their supportive stance would corroborate, "Atlas figures," or "atlantes."
But whatever we call them, we hope Hutchins' no-nonsense figure will help us pay homage to the Quad's remarkable history and architecture even as it links us to the future, and to the new buildings that are destined to be an exciting part of it.
Considering the Hutchins corbel has been holding the place up since the 1930s, we believe bearing something as ethereal as construction news ought to be pretty light duty for him.