Ludwig van Lunchbreak

New "Bach's Lunch" music series features concerts by students and faculty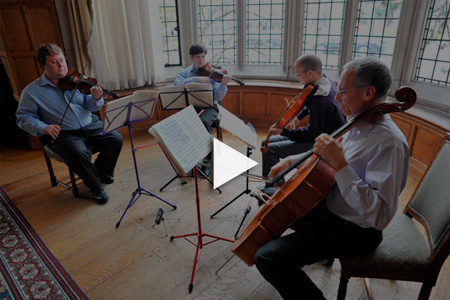 Law students (from left) Ben Bodnar, Nathan Simington and Richard Kim join Professor Ted Parson in performing a Beethoven string quartet in the Lawyers Club Lounge.
Law School photo by Peter Smith.
John Masson, Amicus editor
Michigan Law's new Bach's Lunch music series may be named after a guy called Johann Sebastian, but it was a guy called Ludwig who drew scores for a recent lunch-hour concert featuring a string quartet made up of three law students and a professor.
The Lawyers Club performance of Beethoven's String Quartet No. 7 in F Major featured students Ben Bodnar and Nathan Simington on violin, Richard Kim on viola, and Professor Ted Parson on cello.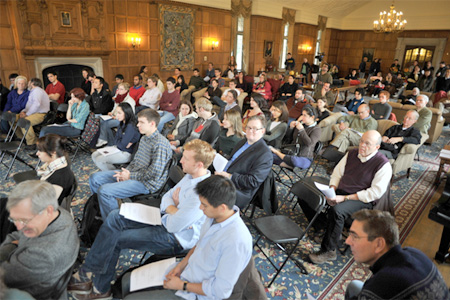 Dozens of students, faculty and staff spent a recent lunch hour with Ludwig Van Beethoven as the Law School Classical Music Society sponsored the live performance of one of his string quartets.
Law School photo by Peter Smith.
Professor Parson introduced the piece and also composed program notes to guide listeners through the composition. Among other odd facts about the piece, revolutionary in its time, Parson said, was the reaction of the first musicians who were to perform it. They were a professional group (possibly the first) who were employed by Beethoven's patron, and when they encountered the opening theme of the second movement—which is played on a single note—Parson said they broke up in laughter, convinced the composer was playing a joke on them and had the real music stuffed in a pocket.
Even though they were professionals, the musicians found this composition daunting, as they did others from this period of the composer's life. When one violinist complained about a difficult passage in a companion work by Beethoven, he prompted the composer's famous outburst "Do you suppose I think about your blasted fiddle when the spirit moves me?"
The program, one of several slated for this academic year, was sponsored by the newly constituted Law School Classical Music Society, whose goal is to encourage appreciation of classical music and the similarities between it and the law. Further support came from Whole Foods and the Law School Student Senate. A video of the performance is available here.