They're Jurists, and His Peers

Law profs moot Rich Friedman for his return trip to Supreme Court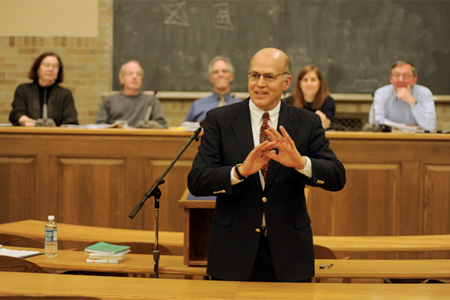 Professor Richard Friedman explains his argument to students while a panel of his colleagues looks on. From left: Christina Whitman, David Moran, Sam Gross, Eve Brensike Primus, and Doug Laycock.
Law School photo by Peter Smith.
Katie Vloet, Law Quad Editor
The highest court in the land makes an appearance at the U-M Law School, and playing the part of Chief Justice John G. Roberts, Jr., second from the right, is none other than Professor Eve Brensike Primus.
Professor Richard Friedman's colleagues mooted him recently to prepare him for arguments in an upcoming Supreme Court case. Professors Christina B. Whitman, David Moran, Samuel R. Gross, Brensike Primus, and Douglas Laycock, as well as Joan Larsen, counsel to the associate dean for student and graduate activities, acted as members of the High Court.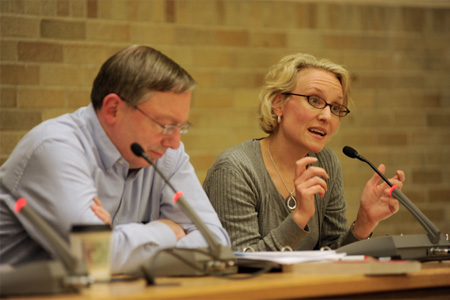 Professor Joan Larsen may be channeling her old boss, Justice Antonin Scalia, as she poses a question to Professor Richard Friedman. Larsen clerked for Scalia in 1994.
Law School photo by Peter Smith.
"I'm doing this because it's an essential part of preparing for arguing before the Supreme Court," Friedman said. He joked about the stand-in justices: "They are a lot nastier; they have a lot less need for decorum" than the real Supreme Court.
Friedman, one of the nation's leading scholars of Constitutional law and an expert on the confrontation clause contained in the Sixth Amendment, will argue for the petitioners in Briscoe, et al., v. Virginia on January 11. The case could help define the limits of a criminal defendant's right to be confronted with the government's witnesses against him.