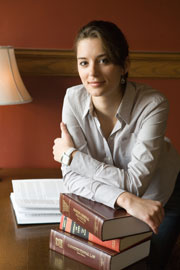 Tina Orsolic, '08 hits the books this spring at Michigan Law.
With three Michigan Law graduates serving as stagiaires at the European Court of Justice this academic year – and several more having served in the recent past – the Grand Duchy of Luxembourg is beginning to take on a distinct Ann Arbor flavor.
The three alumni – Dana Kaersvang '06, Antonia Eliason '07, and Tina Orsolic '08 (LL.M) – are among a limited number of graduates from top American law schools with the opportunity to work in the chambers of an ECJ judge or advocate general. More ...