The Life of Brian
Beloved Prof. Brian Simpson bids farewell in Blue Jean Lecture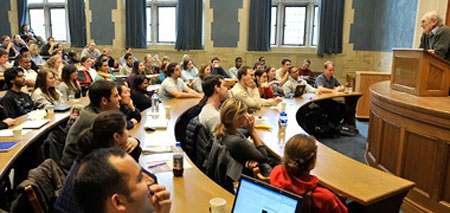 No wonder it was a standing-room-only crowd.
The following are just a few of the lessons the active listener might have taken away from A.W. Brian Simpson's recent "Blue Jeans Lecture," delivered in Hutchins Hall just a few days before the well-loved professor, who is retiring in the spring, taught his last class at Michigan Law this fall.
Other lessons -- such as the importance of checking, before accepting a job and emigrating, whether a certain Canadian university's campus is officially alcohol-free -- could also be included in this report. But not without risk of court action. Therefore we will refrain from mentioning them.
Instead, we'll just list the 13 most prominent points made by Simpson, a self-confessed "butterfly mind," in reflecting on a scholarly life stretching back 54 years:
Age 7 may be a bit youngish to be turned over to the tender mercies of the Prussian model of English boarding school.


The soul-crushing horrors of the British Army, on the other hand, pale in comparison to those of the typical Prussian boarding school. "Miner's sons were weeping into their pillows," Simpson recalled wistfully of his early days in the Army. "But to me, it was just wonderful." The food was better, too.


In the British military, a proper accent is customarily rewarded with a commission.


Always apply for the British Army regiment with the most outlandish name.


Having successfully done so, be prepared to overlook the occasional Nigerian cooks' mutiny. "What do you expect me to do? Go and shoot them?" a 19-year-old 2nd Lieutenant Simpson asked the sergeant reporting the mutinies – all three of them. "Just let them alone, why don't you?"


When researching a case of cannibalism at sea, be sure to consult descendents of both the diners AND the entrée.


Beware the futtock shrouds. (This requires no further elucidation.)


In 19th Century British prisons, where talking was not allowed, toilet paper made a handy stationery kit.


In 19th Century British prisons, urine made a handy invisible ink.


In 19th Century British prisons, inmates received 2.99 sheets of "stationery" per day.


Evidence of a paltry level of inflation: half a century later, British soldiers during World War II averaged four sheets per day.


Evidence of which side made the proper call in 1776: Yank soldier in the same conflict got 22.