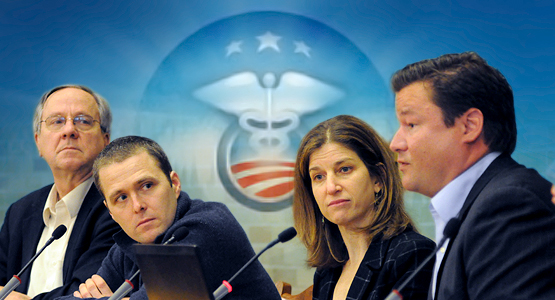 Panel of Health Law Experts Debates Affordable Care Act
By John Masson, Amicus editor
They were lined up outside the Supreme Court building March 26, and they were lined up just after noon the same day in Hutchins Hall.
The big draw in both locations? The Patient Protection and Affordable Care Act.
The purpose of the law was threefold, according to Prof. Horwitz, co-director of the Law School's Program in Law and Economics and one of dozens of experts (including four Nobel Prize–winners) who signed an amicus brief analyzing the economics of the case. The law's goals: controlling costs, improving access to care, and improving quality of care.
And while lawyers from the federal and state governments were dueling before the justices over the enactment of the president's sweeping health care reform plan, four panelists—Michigan Law professors Jill Horwitz and Nicholas Bagley, as well as Michigan Legal Services attorney Gary Benjamin and Michigan Consumers for Health Care lawyer Ryan Sullivan—were analyzing the ACA's impact, as well as some of the possible arguments against it.
The law addresses all three of those concerns mostly by regulating insurance, Prof. Horwitz said.
"The problem we all face with health care is, it's expensive, and it's unpredictable… so we need insurance to help us shift our payment over time," Prof. Horwitz said. Society is "just not willing to let people die on the street… so what happens is, the costs get shifted" to the rest of us.
Health care is completely different from most other consumer products, she added, because it can't be planned for in advance, people don't know exactly what they need even when they know that they need something, and higher prices don't necessarily reflect higher quality.
Other topics tackled by panelists included the lack of a "severability clause" in the law. Prof. Bagley explained that Congress generally inserts such clauses to ensure that even if part of a law is found unconstitutional, the rest of it can remain in force. Its absence in this case, Prof. Bagley said, makes the Court's decision-making considerably more complex.
"The courts don't have a ready-made instruction from Congress on what the heck to do" if part of the law is deemed unconstitutional, Prof. Bagley said.
Also discussed were some of the changes wrought by the act. In Michigan, for example, the expansion of Medicaid eligibility to people at 133 percent of the federal poverty level means between 400,000 and 600,000 more Michiganders would qualify, Sullivan said. And establishment of insurance exchanges under the law means that, ideally, consumers have better tools to compare coverage.
"With the establishment of exchanges, there's a marketplace for people to look at insurance on an apples-to-apples basis," Sullivan said.
Benjamin, who authored another amicus brief in the case, addressed opponents' claim that the law coerces states by threatening to withhold Medicaid funding.
"It's just not true that if you opt out of this expansion, you'd lose all your Medicaid (funding)," he said. "It's not very likely the act will be found unconstitutional based on the coercion doctrine, but it is a danger."
The panel, "The Supreme Court and the Affordable Care Act: A Consumer Perspective," was moderated by Michigan Law's Prof. Alison Hirschel, who also serves as director of the Michigan Elder Justice Initiative.
more ....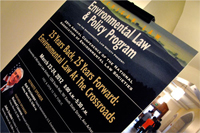 Environmental Law at the Crossroads
By Katie Vloet, Quadrangle editor
In 1988, Michigan Law hosted the first National Association of Environmental Law Societies (NAELS) conference at a time of some optimism about the future of environmental legislation. This month, the conference returned to Michigan Law during a time when, said Prof. David Uhlmann, director of the Environmental Law and Policy Program at U-M, "It has been more than 20 years since the United States enacted meaningful environmental change."
Speakers at the two-day conference (March 23–24) said there are plenty of reasons to feel cynical about the attitude in Washington toward environmental issues. Still, many of them pointed out, there are glimmers of hope: state and local regulations that have been beneficial, changes in the international environmental scene that show promise, and the fact that so many law students attended the conference and are impassioned about the issue.
"Now it becomes your story," NAELS Executive Director Dan Worth told them at the conference, "25 Years Back, 25 Years Forward: Environmental Law at the Crossroads."
A quarter-century ago, "We had a Congress that was fully engaged in environmental law," said featured speaker Richard J. Lazarus, the Howard and Katherine Aibel Professor of Law at Harvard. Strong environmental laws of the 1970s and 1980s seemed the norm. In 1990, Congress passed strong amendments to the Clean Air Act, which appeared to be a promising sign, he said. Instead, "it was Congress's last hurrah," he said.
Speakers and panelists included many high-profile people in the field, including keynote speaker Bob Perciasepe, deputy administrator of the U.S. Environmental Protection Agency; featured speaker John C. Cruden, president of the Environmental Law Institute; and many Michigan Law faculty members and alumni.
Perciasepe said that many positive changes have happened in recent decades, and it is important to remember those: We enjoy some of the cleanest water on earth; we no longer use asbestos in buildings; children in America have less lead in their blood today than they did a few decades ago. But there's a long way to go, to be sure. "What's happened … is that the laws haven't changed much, but the science and technology have continued to change and get better," he said.
As for the future, he expressed a combination of the reasons for concern and for hope. "The challenges in the future are pretty significant," he said. "But I'm confident that ideas will continue to grow."
more ....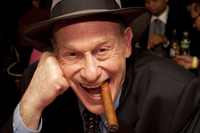 Bert Sugar, legendary boxing writer and MLaw alum, dies at 75
Bert Sugar, '60, whom The New York Times called "boxing's human encyclopedia, a prolific writer and editor, and a flamboyant and ubiquitous presence in the world of the ring," died March 25 at age 75.
Sugar wrote more than 80 books about boxing and was the editor of the magazines Boxing Illustrated and The Ring. In 2005, he was inducted into the International Boxing Hall of Fame.
He was known for his prolific writing, but also his lively approach to boxing commentary on ESPN and HBO, his ever-present fedora and cigar, and his ability to access statistics and trivia about boxing and other sports from memory.
After law school, he practiced law for a short time, then went into advertising, before devoting himself to sportswriting.
He is survived by his wife of 51 years, the former Suzanne Davis; two children, Jennifer Frawley and John-Brooks Sugar; a brother; and four grandchildren.
Several news outlets tried to capture the essence of his colorful character. Some came closer than others. Here's a selection of the best:
more ....

His term set to end in 2013, plaudits roll in for Dean Caminker
By John Masson, Amicus editor
It's still 17 months away, but as thoughts of finding a successor for Dean Evan Caminker ramp up, so do the accolades rolling in after his nearly 10 years of Law School leadership.
In keeping with the University's two-term policy, Caminker announced in early March that he'll step down from the deanship effective August 31, 2013. Current plans call for him to remain on the Law School faculty.
"It has been a great privilege and pleasure to serve you in this role, and I have found the experience to be inspiring, challenging, and fulfilling," Caminker wrote in an email to faculty, students, and staff. "While the past eight-and-a-half years have been full of major challenges for legal education, Michigan Law has thrived, seeing significant growth and progress in core areas of our mission."
University of Michigan Provost Philip Hanlon agreed, and added that Caminker will be remembered as a builder of more than just beautiful buildings.
"Evan has been a strong advocate for programmatic and curricular improvements that have strengthened the Law School as it faces the challenges for legal education," Hanlon wrote in a note to the Law School. "Thanks to Evan's inspiring leadership the Law School has grown and thrived in a difficult and challenging environment. Scholarship has advanced on a global scale, collaborations with those in other disciplines have multiplied, and education of Michigan Law students has been enriched in multiple ways."
Of course, there are also those beautiful buildings; Aikens Commons and South Hall—Michigan Law's first expansion of classroom space since Hutchins Hall opened in the 1930s—testify to Caminker's skill as a different kind of builder. And there's more to come: a major renovation to the living spaces of the Lawyers Club is set to get underway this summer.
"The new South Hall and Aikens Commons are impressive both for their functionality and architectural beauty," Hanlon acknowledged. "The stunning restoration and renovation of existing facilities have reaffirmed the distinction of the Law School Quadrangle."
Hanlon said the next step is "a careful and thorough search" for a successor by a committee made up of faculty, students, and staff.
In the meantime, Caminker urged the Law School to keep pushing forward.
"I anticipate the upcoming transition will provide an exciting opportunity for the Law School to progress even further," Caminker said. "I am confident that with the excellent leadership and support of the University and of our faculty, our new dean will continue to enhance the educational, professional, and intellectual missions of the Law School for all members of our community."
more ....