Rainmaking 101: Tips for bringing in a flash flood of new clients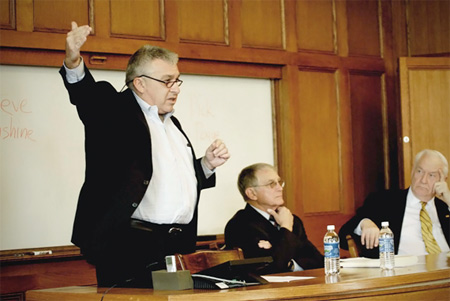 An animated Steve Sunshine, left, explains the art of the rainmaker to a standing-room only crowd. 1963 grad Herb Kohn, center, and Richard Pogue, '53, look on.
Steven H. Sunshine knows some rainmakers who look like they've slept in their clothes, who drop the F-bomb in nearly every utterance, and who tuck themselves away in quiet corners at parties.
That doesn't fit many people's image of rainmakers as gregarious back-slappers who recruit clients on the golf course, he noted during a March 31 event about building and maintaining relationships with clients.
"Everyone in this room—you could all do it," Sunshine, a partner with Bryan Cave in Irvine, Calif., told the standing-room-only audience. "There is no model for rainmakers."
Tips from Sunshine and Herb Kohn, '63, a partner with Bryan Cave in Kansas City, included:
Never do anything that makes you uncomfortable. Rainmakers focus on areas about which they are passionate, not things they think they should do. If you are not passionate, clients will notice, and no amount of acting can disguise your lack of interest.


Be yourself all the time. Logic dictates that you should adopt an air of professionalism and decorum to draw in new business, but it doesn't work, Sunshine noted. Successful rainmakers don't spend their time trying to appeal to a large spectrum of people; rather, they are true to their own personalities, and they "mine a narrow spectrum of the universe of clients," he said.


Listen closely to clients, acquaintances, and friends. "I have never seen a rainmaker who was not an active listener," Kohn said.


Don't count on a small number of seeds growing into a garden of new business. Plant a lot of seeds—that is, make connections with numerous people, even if they may not become clients—to increase your odds of bringing business to your firm. "It is statistical, not luck," Sunshine said.


Maintain contact with your law school classmates. "You already have seeds," Sunshine said. "Stay in touch with them the rest of your lives."


The program was supported by the Richard W. Pogue Endowment to Support Studies of the Business of Law. Pogue, '53, also joined the panel and answered students' questions afterward.