Gone to the dogs

2008 grad mushes his way to Iditarod Rookie of the Year honors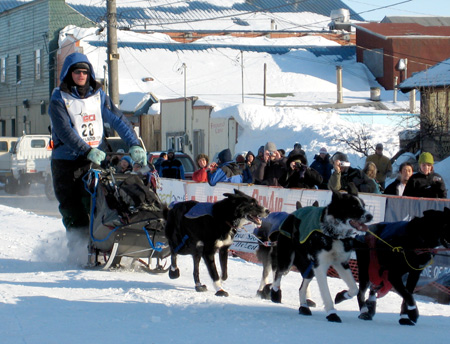 Chad Lindner mushes through town last month during Iditarod 2009.
Maybe it was the moment when the 40-mile-per hour wind and the horizontal snow made the frozen Yukon River feel like the surface of Jupiter.
Or it might have been the moment, clinging to the back of his dogsled, when 2008 Michigan Law grad Chad Lindner found himself cramming Folger's instant coffee crystals into his mouth in a desperate gambit to stay alert.
But whatever moment solidified his decision, Lindner is more than comfortable with being a "one-and-done" participant in the grueling, 1,100-mile Iditarod dogsled race.
"I really wanted to experience it, but it's not really my passion," said Lindner, who finished in 30th place after a 12-day run and was named the 2009 Iditarod's Rookie of the Year. "Unless you can truly think of nothing you enjoy more than being out there on the trail with the dogs – it's not that I don't love it, but you really do have to love it more than just about anything else."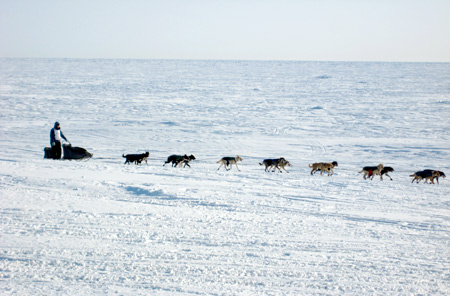 Lindner and his team brave some of Alaska's wide open spaces.
Lindner, who will head off to Boston March, 2010 to begin as an associate at Edwards Angell Palmer & Dodge, comes by his interest in the race honestly. His father, Sonny Lindner, finished the race 11th this year and has run the Iditarod since 1978, when he, too, was named Rookie of the Year. The elder Lindner helped introduce his son to mushing and taught him how to survive in the unforgiving climate.
"For me, being out there is pretty comfortable," Lindner said. "But I still think the Yukon River was pretty hairy."
An Alaskan's version of "pretty hairy" means a giant storm descended on the mushers as they worked their way toward Nome, where the race ends.
"I wasn't worried that I wasn't going to make it, but … the wind was blowing 40 miles per hour, you couldn't see, it was a whiteout. So your face is getting frostbitten from the wind, your eyes are stinging, it was pretty unpleasant."
That unpleasantness, ironically, also reminded Lindner of one of the things that attracted him to the race in the first place.
"There was a group of us going through it, and when we made it to (the checkpoint at) Kaltag, we were giddy," Lindner said. "We were giggling like schoolchildren, we were so happy to be off the Yukon. That camaraderie is one of the best aspects of running the race."
It also exemplifies what Lindner regards as an Alaskan outlook on life – an outlook that students at Michigan Law might recognize from their experiences at law school.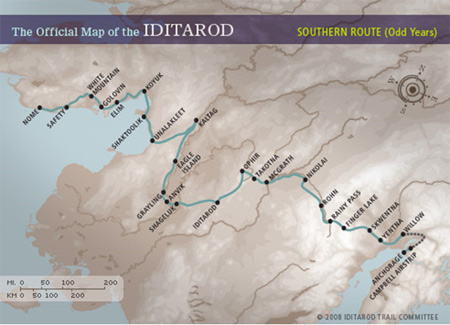 "It was a moment when we weren't in competition, we didn't care who got there first. We all just wanted to get off the Yukon. We took turns breaking trail. That's the spirit of the Iditarod to me, and it's like the spirit of Alaska. In Alaska, when people go out in the wilderness, they stick together and help each other out."
Trail photos courtesy Lindsay Kanter, '08