Bids and blood
Ann Arbor's SFF and NYC's AFF auctions

bring in cash for public-interest interns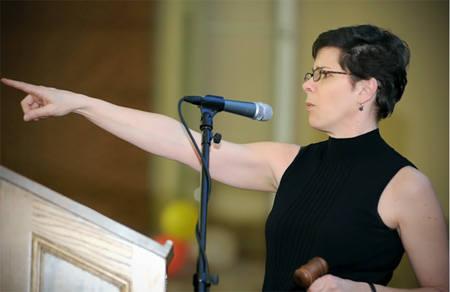 A gavel-wielding Assistant Dean Sarah Zearfoss prepares to drop the hammer on a winning bidder. Oh yes, she seems to say: Don't even TRY to take back that bid.
Even in a sagging economy, it's tough to resist the appeal of a book on cannibalism, signed by the author in his own blood.
Always a popular item in the annual Student Funded Fellowships (SFF) auction at the University of Michigan Law School, Professor A.W. Brian Simpson's highly regarded Cannibalism and the Common Law garnered extra attention this year because the popular professor is retiring this spring. The book brought in $2,000, which will contribute to the SFF grants to Michigan Law students who take unpaid or low-paying public-interest summer internships.
The auction remains the organization's most popular event, with 168 items donated this year by professors, alumni, students, and others. Participants had the chance to bid on dinner, golf, or fishing trips with Michigan Law professors; a tour of the Sports Illustrated office in New York City; or a white Fender guitar signed by Alice Cooper.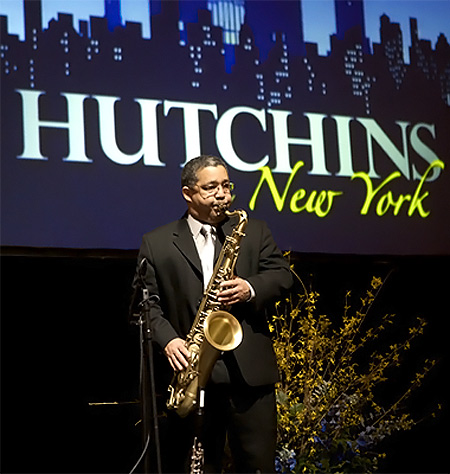 Sax and the City:Musicians enrich the recent AFF auction in NYC.
Additionally, alumni in New York City participated in the Alumni Funded Fellowships auction. About 150 people attended, bidding on items such as a Darth Vader helmet signed by U-M alumnus James Earl Jones and a backstage tour of "Good Morning America," donated by ABC News President David Westin '77.