Ypsilanti Mock Trial Squad Goes Big-Time With Help from Michigan Law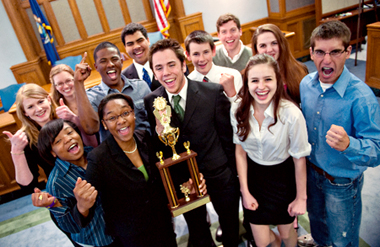 By John Masson, Amicus editor
At first glance, Ypsilanti High School might not seem to have much in common with the exclusive University of Detroit Jesuit High School.
Second glance, too.
But that didn't stop Ypsi's scrappy and meticulously prepared mock-trial team from splitting with one of the state's most powerful teams at this spring's competition. The decision helped the Ypsilanti team—coached by volunteer students from Michigan Law's Future Advocates in Training (FAIT) group—advance to the state finals. More ...
---
A Posthumous Win for Baseball Icon Branch Rickey

Commemorative Video Receives Emmy Award
By Linda Fitzgerald, Law Quadrangle interim editor
To anyone who loves baseball, Branch Rickey, '11, is a familiar name—and the stuff of legends. He invented the farm team system. He developed the first spring training facility. He was the first general manager to use batting helmets, pitching machines, and batting cages. He introduced the concept of statistical analysis, otherwise known as sabermetrics. And he was the only baseball executive of his time to have earned a law degree.
Any one of these achievements would have made Rickey a notable figure in baseball history. More ...
---
Media Look to Law School Faculty to Explain BP's Liability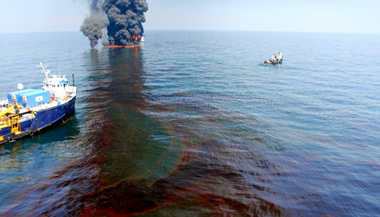 By Clarissa Sansone, Amicus interim editor
As the two-month-long Gulf oil spill continues, the press wants to know how BP, Halliburton, and Transocean will pay—literally and legally—for what is being described as the worst environmental disaster in history. While media outlets explore the legal ramifications of the spill, from the settlement of individual damage claims to the likelihood of felony charges, they are looking to Michigan Law for its expertise. More ...
---
Genser, '01, Wins 100k Prize for Humanitarian Efforts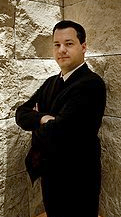 By Linda Fitzgerald, Law Quadrangle interim editor
While he was a student at Michigan Law, Jared M. Genser, '01, spent a life-changing summer working for a human rights organization in London. Within a year, he had co-founded Freedom Now, a nonprofit organization dedicated to securing the release of international prisoners of conscience. On June 7, he was awarded The Charles Bronfman Prize, which seeks "to bring public recognition to individuals whose Jewish values infuse their humanitarian accomplishments." Genser, a partner in the Washington, D.C., firm of DLA Piper LLP, has donated the $100,000 prize to Freedom Now.
In the News

Dean Evan Caminker joins other law school deans in discussing Supreme Court nominee Elena Kagan, reports The Christian Science Monitor
In the Detroit Free Press, Prof. J.J. Prescott weighs in on a current lawsuit against restaurant chain Hooters.

Prof. Jill Horwitz was featured on NPR's Morning Edition, talking about the implications of Vanguard's possible purchase of the Detroit Medical Center.

Prof. Horwitz commented on a separate hospital purchase in The Boston Globe as well.
Ron Garber, '07, was recently awarded a fellowship from PeacePlayers International (PPI), a global nonprofit that uses the game of basketball to unite and educate young people in divided communities.
Prof. Nico Howson peers into the Chinese boxes of offshore holding companies for Dow Jones Investment Banker.

Prof. Bridget McCormack talks to Michigan Radio about an Innocence Clinic client that may get clemency and tells WJBK Fox 2 how the clinic's work with the wrongly convicted makes a case for keeping the death penalty out of Michigan. Prof. McCormack also commented on one of the clinic's current cases, which has hit a roadblock, on WWMT Newschannel 3.



Prof. Richard Friedman, in the Detroit News, and Prof. Eve Brensike Primus, in the Detroit Free Press, comment on a Supreme Court decision that raises questions about whether remaining silent waives one's right to remain silent.
Coming Up
Alumni Events
Michigan Law is taking its annual summer road trip with events for alumni and current students in major cities nationwide. Highlights include baseball outings in Los Angeles and Detroit, with receptions in six other cities. To RSVP for any of these events, please e-mail lawevents@umich.edu or call (734) 615-4535.