Media Look to Law School Faculty to Explain BP's Liability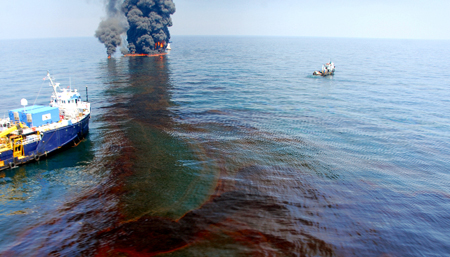 By Clarissa Sansone, Amicus interim editor
As the two-month-long Gulf oil spill continues, the press wants to know how BP, Halliburton, and Transocean will pay—literally and legally—for what is being described as the worst environmental disaster in history. While media outlets explore the legal ramifications of the spill, from the settlement of individual damage claims to the likelihood of felony charges, they are looking to Michigan Law for its expertise.
With seven years' experience as head of the Justice Department's environmental crimes section, Professor David Uhlmann, director of the School's Environmental Law and Policy Program, has provided detailed insight into the legal consequences of the spill. In addition to his New York Times op-ed, Uhlmann has appeared on NPR, CNN, and Countdown with Keith Olbermann, and has been quoted in Time and the Wall Street Journal.
In addition, visiting professor and 1998 graduate Noah Hall, who is Executive Director of the Great Lakes Environmental Law Center, has appeared on PBS's NewsHour and Aljazeera's Riz Khan show, and was quoted in USA Today.
The Law School has a rich and well-established tradition of environmental law. In addition to Professors Uhlmann's and Hall's contributions, Professor Ted Parson, an expert in international environmental law and policy, has served on the National Academy of Sciences Panel on Advancing the Science of Climate Change, which recently released its report. Professor Nina Mendelson, a former attorney with the U.S. Department of Justice's Environment and Natural Resources Division, currently serves as a special legal advisers to the NAFTA Commission on Environmental Cooperation. Michigan Law attracts–and produces—great practitioners in environmental law, remaining at the forefront of a field growing ever more relevant as the use and regulation of natural resources become increasingly significant in our courts and our culture.